I'm hoping you all saw my recent Blogs to Watch in 2010 post – if not, go now 'cause there's some truly fab blogs you could be missing out on! One of the ones I mentioned was Beauty's Bad Habit – a few weeks ago, Lily asked me to participate in a new Blogger Challenge series she's starting on her blog, this is the first one so I'm really glad to have had this opportunity :)

Lily asked me to suggest a look/style/idea/what have you that we would both have a bash and and post about on the same day. We haven't seen each other's yet – my posts always go live at 7am so if you're reading this soon after it's posted I doubt Lily's will be up yet, but definitely keep checking back because I know she is going to SMASH it!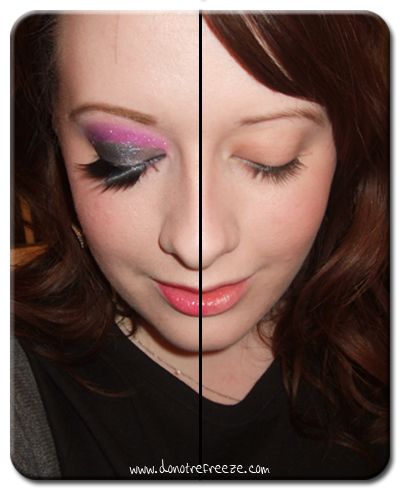 I suggested we should try doing half of our faces natural (no makeup makeup, or whatever you want to call it), and the other half something heavy/drastic that we wouldn't normally wear. Lily is a LOT braver with her makeup than I am so I'm excited to see what's 'drastic' for her!
These are some of the most unattractive pictures I've ever posted of myself, I have come to the conclusion that my profile is not photogenic – either side! Hahaha. I don't mind so much, though. Also, the cut crease on the heavy side looked much better in person.. such is life, right? Sadly I only had time to do this in the evening, so sans natural light and the flash really washed out the makeup on my cheeks.
Heavy Side
:: Illamasqua Satin Primer
:: Revlon PhotoReady foundation in Vanilla
:: BeneFit Boi-ing Concealer in 01
:: Fero Cosmetics light reflecting concealer
:: Illamasqua Rumour blush (to contour)
:: Illamasqua Hussy blush
:: Eyeko Extra Glow cream
:: Kryolan eyeshadow base
:: GOSH eyeliner in Purple Stain (to mark out cut crease)
:: Sleek eyeshadows – Gunmetal from Bad Girl palette on lid, metallic fuchsia and purple from Circus palette in crease, matte white from Circus to highlight. Dark brown from Storm palette to fill in brow.
:: Illamasqua Static pigment (that's where all the sparkle came from!)
:: Illamasqua liner cake in Mislead, and sealing gel
:: Bourjois black kohl pencil
:: No7 Smokey eyeliner
:: BeneFit Eye Bright (inner corners)
:: Collection 2000 Big Fake mascara
:: Illamasqua false lashes (can't remember the number!)
:: Maybelline Colour Sensational lipstick in Summer Pink
:: MAC Dazzleglass in Money Honey
PHEW! That's a lot of products for half a face! I definitely went way overboard – but that was the idea! Now in comparison…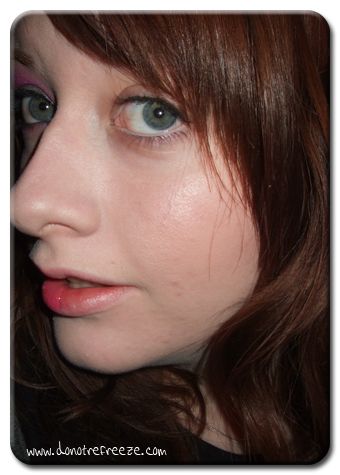 Natural Side
:: Moisturiser
:: Lily Lolo mineral foundation in Porcelain
:: Benefit Eye Bright on waterline
:: MaxFactor Lash Extension Effect mascara
:: The Body Shop blush in Coral
:: A slick of lip balm
That's it! Haha, quarter the amount of the products used on the other side. I always feel naked without some black liner on the upper lashline so I did feel a little underdone on this side but I prefer how I look on this side a damn sight better than with a million products on my face!
Remember to keep an eye out for Lily's post on Beauty's Bad Habit, she's a real pro in the makeup department – not really my fortè! I had a lot of fun playing around with makeup though, it's a long time since I did something this dramatic on my eyes (well, eye…) and it's inspired me to hone my creativity in my spare time :) thanks Lily for asking me to take part!
P.S: My Joy to the Blogosphere giveaway ends tonight at midnight GMT. Don't forget to enter if you haven't already! :)