I think the last time I did a haul post was actually for last year's IMATS! Haha, so please forgive the rare occurrence, I'm not normally one for hauls. I'll warn you now though, there'll be another in mid-July when I return from Florida! But I digress..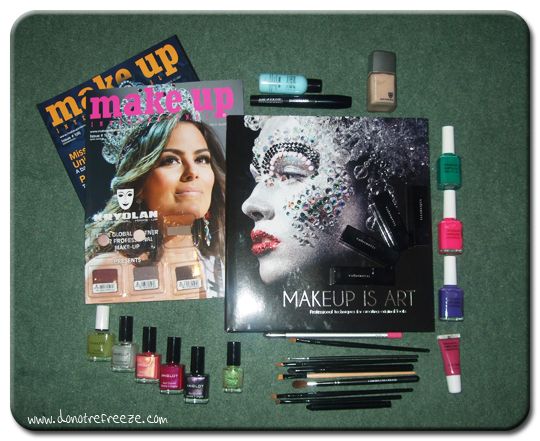 I don't think I was too naughty with my IMATS haul. There's a LOT more that I wanted to buy but I showed a little bit of self control! My star purchase was the Makeup Is Art book from AOFM (Academy of Freelance Makeup). I really wanted to buy this last year, I think it was £20 but I ran out of money – this year it was down to £15 so I snapped it straight up! A really beautiful, high quality book with some stunning images. I shall probably review it at some point. I also picked up the two most recent copies of Make Up International magazine from Charles Fox – I got a few last year too and I really love the content.
Also from Charles Fox I got a bright pink Kryolan lipliner, and a new bottle of my all time favourite Kryolan Ultra Fluid foundation. I got a set of four Illamasqua lipsticks for a truly bargainous £20, and another OCC Lip Tar for my collection along with three OCC nail polishes. I also picked up Make Up Forever's Smoky Lash mascara, a long time lemming of mine. A modest handful of Crown Brushes, five Inglot nail polishes and a cuticle gel, three Inglot eyeshadows, two Yaby eyeshadows and a Yaby brow powder made up the rest of my purchases.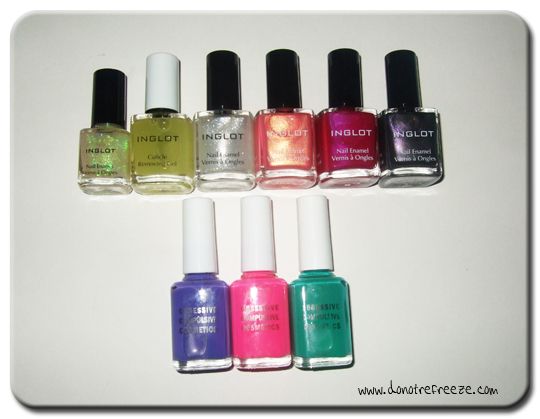 Top row: Inglot 203, Cuticle Gel, XL1, 304, 938, 963.
Bottom row: Obsessive Compulsive Cosmetics Perpetual, Anime, Chlorophyll
Here's a closer look at the nail stuff I picked up. The Inglot products each cost £6 and the OCC polishes were £4 each. When swatching these, I loved the satin finish of the OCC polishes – Chlorophyll was lovely and opaque but Anime and Perpetual required three coats to build up an opaque colour. Perpetual is such an interesting colour, a real blue toned violet and unlike anything I already have. Inglot 938 and 963 were perfect two coaters but 304 required an extra coat to achieve it's best finish. The glitter and flake topcoats are just glorious! Swatches below: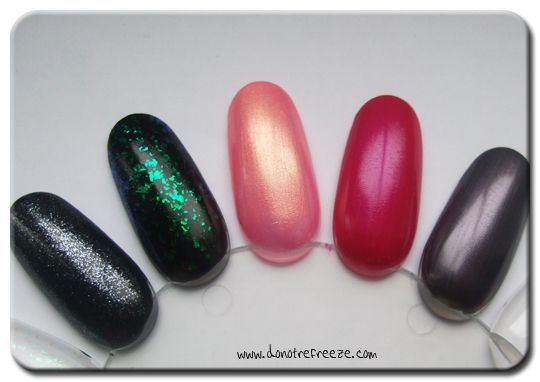 Inglot XL1 and 302 swatched over black (Illamasqua Scorn), 304, 938, 963).

OCC Chlorophyll, Anime, Perpetual.
Now let's move onto the lip procuts…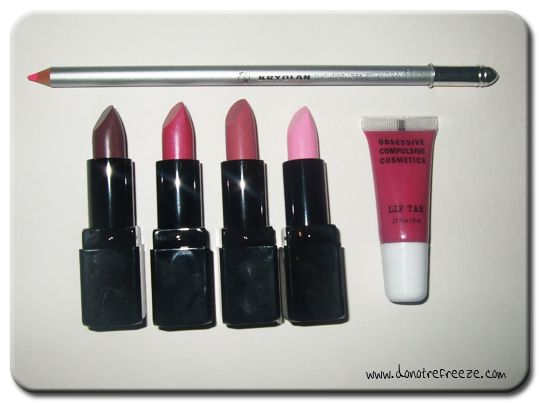 Kryolan lipliner 906, Illamasqua lipsticks in Poison, Welt, Wanton and Filth, OCC lip tar in Demure.
I really needed a bright pink lipliner, and since I couldn't get hold of Illamasqua's Titivate medium pencil, this Kryolan offering came to my rescue for an excellent £4.60. It's SO long, I don't think I'll ever run out of it. I really wanted to get one of the purple toned Lip Tars this time to add to my collection, I had Hoochie in mind but I didn't like it all that much in person so settled on Demure instead which is stunning! As for the Illamasqua lipstick set, I thought that I wouldn't wear Poison for being too dark, nor Filth for being too light but it still felt worth it to me just for Welt and Wanton (both of which I've wanted for a while) – but on swatching I actually think I could make both Poison and Filth work in one way or another.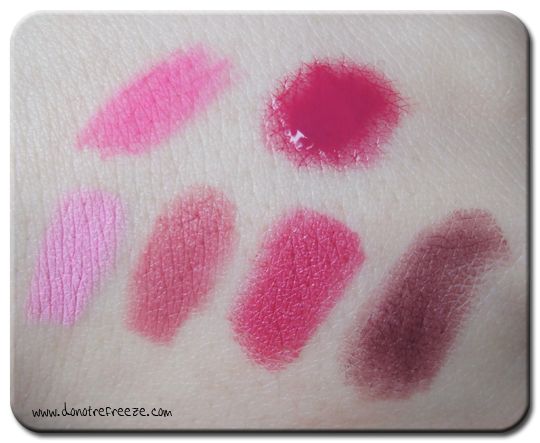 Top: Kryolan 906 pencil, OCC lip tar Demure.
Bottom: Illamasqua lipsticks Filth, Wanton, Welt and Poison.
Lastly, a closer look at the eye products!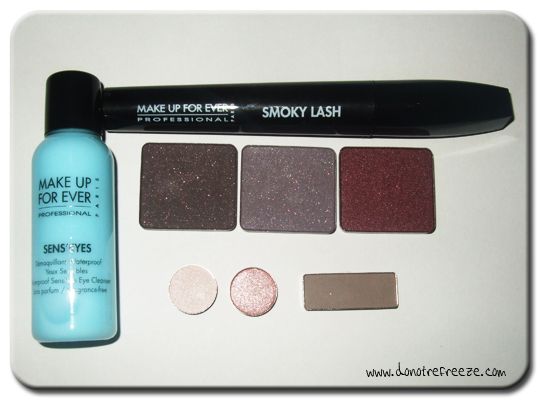 Make Up For Ever Sens'Eyes makeup remover and Smoky Lash mascara, Inglot eyeshadows DS 458, DS 502, Pearl 452, Yaby eyeshadows Seashell 192, Glazed Rose 346 and brow powder BP004.
The MUFE mascara and makeup remover (they came together in a set) are serious contenders for Bargain of the Day. The price sticker on the box read £17.50, which I thought was damn good for these two products. I thought this price included Guru Makeup Emporium's discount, so imagine my surprise and delight when I actually paid £11.37 for the set! You're lucky to get a good drugstore mascara for that price these days. I was half tempted to get another Inglot freedom palette made up, but I decided instead that it would be more sensible (not to mention quicker) to just pick out a few colours I liked the look of for my Z palette. I like the DS shadows (not sure what that stands for), they're a matte shadow but sprinkled with glitter, it's a much more interesting finish on the eye! I also wanted to try just a couple of Yaby eyeshadows as they were so cheap (I think £1.80 each). They are about the size of a 5p coin but I never hit pan on anything so that's not a problem for me! They are so soft and buttery to apply, too, I'm impressed. I might have to see about getting a few more just to fill up the little gaps left in my Z palette ;P I also picked up a Yaby brow powder for about £3, I liked this one because most brow pencils and powders are too red toned for my liking but this one was a nice ash brown. Less yacking, more swatching: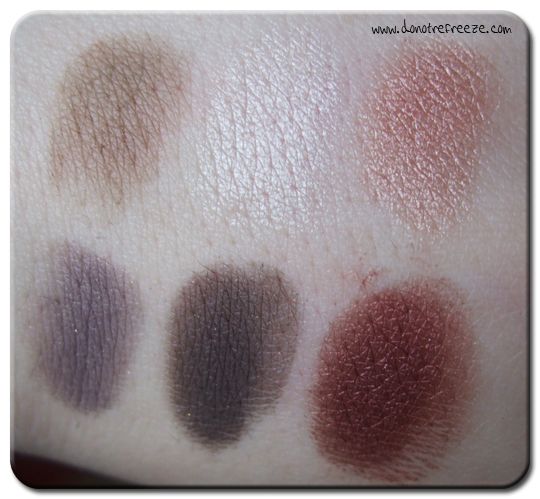 Top: Yaby BP004, 192 Seashell, 346 Glazed Rose.
Bottom: Inglot DS 502, DS 458, Pearl 452.
And that, my friends, concludes my IMATS haul and makes way for a VERY strict self-imposed spending ban for the next FIVE months so I can save for my holiday to Florida!
What did you pick up from the show? This is the one time of year that I love to see hauls! Please let me know if there's anything in particular in this post that you'd like me to review – I intend to do one for the Makeup Is Art book and the MUFE Smoky Lash at least but please don't hesitate to ask if there's anything else you'd like to see in more depth.