"Japonism is a term for the influence of the arts of Japan on those of the West. Works arising from the direct transfer of principles of Japanese art on Western are called japonesque." – read more on Wikipedia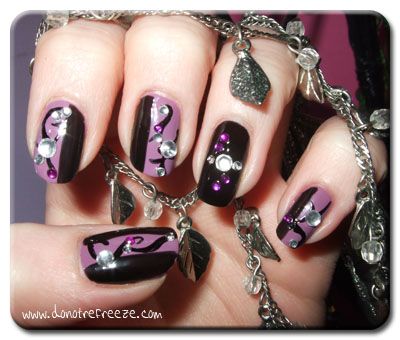 If I'm lacking in nail art inspiration, I often have a flick through a Japanese nail art magazine. They have tons! Nail Up, Stylish Nail, Nail Max, Nail Venus… you can download magazine scans for free from Tokyo Jam. If you've been a follower for some time, you might remember the last time I did a nail design inspired by an Asian magazine – they REALLY love their rhinestones!
So, for my first easy peasy nail tutorial of 2011 (sorry it's taken so long), I thought I'd give you something truly blinging and not for the faint hearted!
Start off by choosing your base colour, and a black. Paint four nails of each hand with your chosen colour (I used Illamasqua's Velocity), and choose one nail to paint black as an accent nail – I always use the ring finger as an accent nail but it really doesn't matter.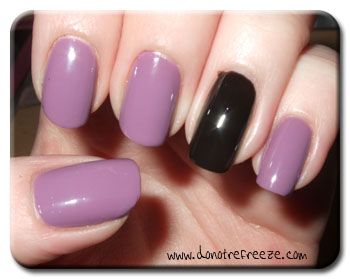 Once that's touch dry, paint a stripe of black onto the side (either side – vary it if you like) of each nail. I painted two stripes onto the thumb.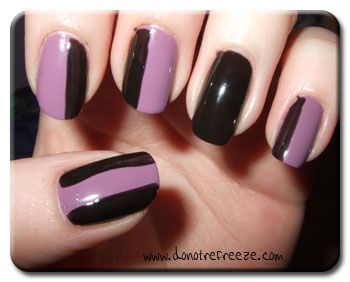 Now you'll need a black striping polish, or liquid liner, or nail art striping brush dipped in black polish… whatever you have/prefer. Create swirly shapes on the purple areas of each nail. Try not to think too much about what you're doing, and try not to stop and start with the brush – if you keep it all to just a couple of fluid movements, you'll get a much nicer look. Remember, to taper the end of a shape you create with a striping brush, just release the pressure as you come to the end of your stroke.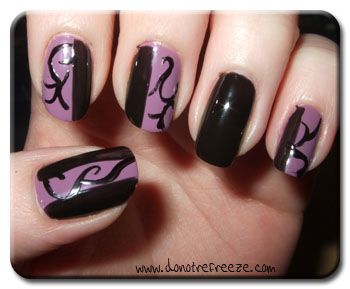 This is the point at which you'll need to hit eBay if you don't have any nail bling! Apply a dot of clear polish to where you want to place your sparkly goodness, then stick a whacking great rhinestone wherever takes your fancy on each nail. I think the ones I used are 3mm, but don't quote me on that. You can see I placed the large one right in the middle of the accent nail, and created a tiny pattern around it with smaller rhinestones. You don't have to use varying sizes of rhinestones, but it definitely keeps the Japan-inspired feel to it if you do.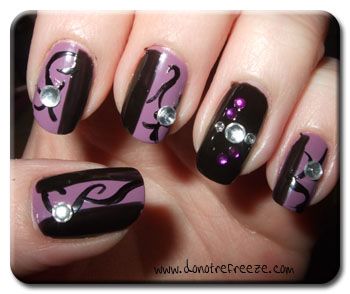 To complete the design, add a few more smaller rhinestones to each nail. You could just keep to silver if you prefer, but I added some purple ones in too to tie in with the base colour. You can place them wherever you see fit; I particularly like them at the end of a swirl, or at the intersection where two swirls meet.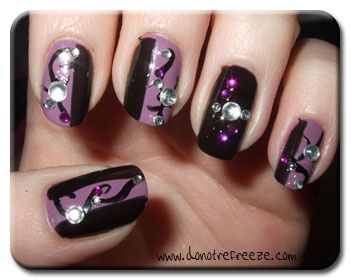 Now just finish up with a topcoat to keep your bling safe and secure, and clean up any messy edges with your preferred method. All done!
Really hope you enjoyed this one – might be a little OTT for some people but I LOVE a bit of tack!