Here's part two of my favourite products of 2010 – the makeup!
:: Sleek MakeUP Bad Girl iDivine palette – I've not worn an awful lot of eyeshadow this year, but I wanted to put a palette into this list and this was the obvious choice for me – day to day I usually go light on the eyes with a bold lip, but if I'm going to go the extra mile and wear eyeshadow then I go heavy on the eyes so this is lovely for me. Plus, I swear Sleek's palettes improve every time they bring out a new one. I used this in an FOTD here.
:: Illamasqua Eyeliner cake in Mislead (plus Sealing Gel) – two products I could absolutely not live without. My everyday makeup includes a sculpted face, winged liner and a pink lip, and for me this is THE product for my winged liner. I included it in my November favourites here.
:: Majolica Majorca mascara – I only realised after uploading the images for this post that I included the exact same mascara in my favourites of 2009, too. Surely that's saying something! The wand is certainly unusual but so easy once you get used to it, and this remains the ONLY mascara (no exaggeration!) that holds a curl in my lashes and doesn't make them flop within half an hour. Many thanks again to the wonderful Jules for gifting me this one – serious HG material!
:: Illamasqua powder blush in Rumour – I use this absolutely every day, without fail, to pretend I have some cheekbones rather than puffy hamster cheeks, yet I've not even made a dip in the product yet. This is going to last me about a million years but even if it didn't last me long I'd happily part with another £16 to repurchase it. I can't fault it, it's the only good contour colour I've found for my skin – not too dark, not too warm toned. Lovely stuff.
:: Topshop cream blush in Flush – My single most used blush of the year, without a shadow of a doubt. Most of the powder blushes I own are super pigmented and require a careful, light application with a blush brush but this Topshop offering is just perfect in the mornings when I'm in a rush and can't risk an Aunt Sally accident. A quick swirl of the pan on my finger, three dots on the apple of each cheek and blend. Done! I included it in my October favourites here.
:: Kryolan Ultra Fluid foundation in Alabaster – I swear this is my absolute HG foundation. It costs about £12 and is simply perfect for me. Offers absolutely everything I want in a foundation, but I won't elaborate too much; you can check out my full review here. A few weeks ago, I randomly felt like using a different foundation so went for Revlon Colorstay (which I used to love) and it looked VILE in comparison! Same thing happened with Revlon PhotoReady which I also used to like. Basically I don't think I'll ever be able to get on with another foundation!
:: BeneFit Eye Bright – My mind fails me as to which magazine it was, but this was a freebie in a UK magazine some months ago and pretty much everyone and their mother owns it now, but it was definitely worth the £2 I paid for the magazine! I use this every day on the inner corners of my eyes to make me appear bright eyed and bushy tailed despite really feeling like a zombie. I've barely had to sharpen it yet, either, so I can forsee this freebie mini version lasting me forever.
:: NYX Round Lipstick in Paris – My favourite pink. For someone who wears pink lips nearly every day, I don't actually have much of a collection of pinks but I hope to remedy this in 2011. This one will always have a special place in my favourites, though. It's got a blue undertone which is super flattering to my pale skin and leans a little bit purple which makes it slightly more unusual than your regular pink lipstick. Makes my nasty yellow teeth look reasonably white, too! I included it in my November favourites here.
:: Illamasqua lipstick in Obey – I haven't worn it much over the last few months as I definitely think it's more of a summery colour, but in the hotter months this was my go-to lip colour. Crazy amazing peach which you definitely need some balls to wear. It actually has a perfect drugstore dupe in the form of Barry M's lipstick in 147 – check out my dupe alert post here.
:: Obsessive Compulsive Cosmetics lip tar in Pageant – I can't believe I've owned my lip tars for nearly a year and have never posted about them. I love to wear them but can only do so when my lips are in good condition and not flaky as they do dry matte (although I sometimes top them with a slick of balm if I feel my lips are getting dry underneath). They are meant for mixing, and I love to mix Pageant with a tiny touch of Conquest (concealer nude – I NEVER wear that alone!) to make it a peachier pink but sometimes, if I'm feeling particularly brave, I'm happy to rock this eye popping lip colour on it's own.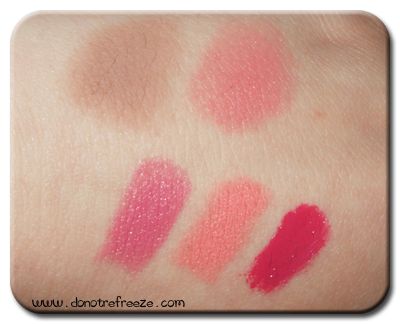 Swatches – Top: Rumour, Flush. Bottom: Paris, Obey, Pageant
I promise for a post on my OCC Lip Tars sometime soon! What made the grade for your favourites of 2010? Feel free to post links below if you've done a similar post!