"For you who love to flirt with fire… who dare to skate on thin ice…"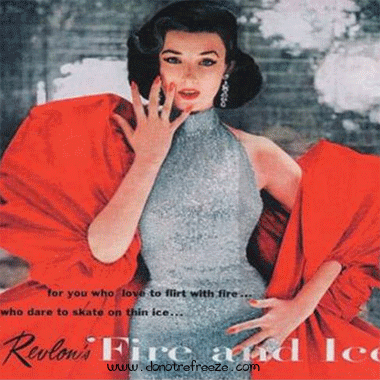 Revlon have recently relaunched their classic Fire and Ice lipstick (and All Fired Up nail polish), 58 years after it originally came out in 1952. Reported to be one of the most iconic beauty launches and ad campaigns of its time, the original campaign featured American supermodel Dorian Leigh. The promo images have been re-shot this year by Mario Testino, who incidentally is one of my favourite photographers, featuring the stunning Jessica Biel sporting the classic red lips and nails.
As much as I love the campaign images (and Revlon overall, for that matter), I couldn't help thinking 'but it's just red lipstick and nail polish… aren't they all the same?'. Well, here's what I concluded after giving it some thought.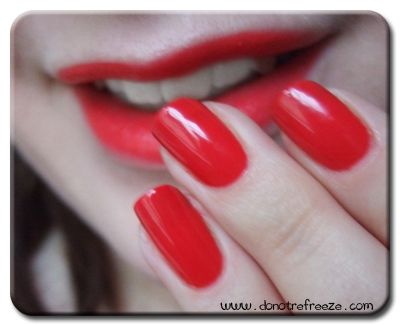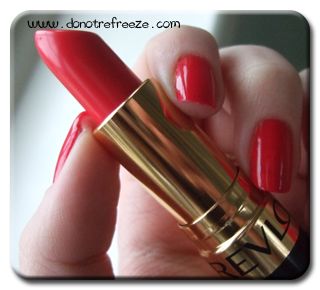 The single best thing about Fire and Ice lipstick is that is doesn't bleed! I often find with red lipsticks that if I skip lipliner, it'll bleed and feather into my fine lines after just a couple of hours. This one, though, I wore all day and didn't experience any bleeding at all. It was also super long lasting, only requiring a little slick to top up the colour after eating lunch. But how does it compare to my other red drugstore lipsticks, colour wise?

L-R: Maybelline Color Sensational Fatal Red, Maybelline Color Sensational Ruby Star, Revlon Colorburst True Red, Revlon Fire and Ice
Instantly you can see that Ruby Star is considerably darker, and I think Fatal Red is a little more of a 'classic' red. I also think Fatal Red suits me the best as it is more blue based than the others – Revlon's reds seem quite orangey. There's not a lot of difference between True Red and Fire and Ice, although I'd describe Fire and Ice as a more 'luminous' red.
All Fired Up is gloriously opaque with a lovely shine, not to mention a beautiful colour that suits my skintone. But, it's basically just your standard red nail polish. I hate to say it but all it is, is all that I expect from a red polish! It's drying time is also pretty slow, too, so if you do wear it make sure you slap on a quick drying topcoat. Revlon's nail polishes are one of the most expensive drugstore polishes and for that, I must say I expect a faster drying time.

L-R: Eyeko Saucy Polish, Maybelline Express Finish Cherry, Revlon All Fired Up
I have to be honest, I think there's barely any difference between these three in terms of colour. All Fired Up is probably the nicest to apply, though. I can't often appreciate 'subtle differences' between different red creme polishes – OPI particularly annoy me with their billion and one red cremes, they're all the bloody same! But that aside…
Fire and Ice and All Fired Up are definitely products worth getting if you a) don't have much in the way of red lipstick/nail polish or b) love red lipstick and nail polish. No harm in adding to your collection, and it's cool to think that glamourous women were wearing these products (although I don't doubt their formulas have been significantly improved) 58 years ago!
Fire and Ice lipstick is £7.29, and All Fired Up nail polish is £6.29, both exclusive to Boots. Don't forget that Boots has a 3 for 2 across all cosmetics at the moment, so now's the time to snap them up if you like them!