Ooh, I'm not sure where to start with this one! …How about at the beginning, that would make sense wouldn't it?

About six weeks ago I had a random but compelling urge to get my hands on Migi nail art pens. I'm sure you'll have heard of these – if not, here's their website. I used to own a whole ton of generic eBay nail art pens but the quality of them was just abysmal so I wanted something reputable. Anyway, I searched high and low all over the internet for where I could get hold of them in the UK. Even eBay and Amazon came up short, and when I asked my fellow UK blogger/Youtuber Klaire de Lys where she got hers, they turned out to be PR samples so she didn't know how I could get hold of them either! I sent Migi a message via the contact form on the website (no direct email address) to ask about where UK consumers could purchase them, and also left them messages on their Twitter but never had any replies. In the end, I thought 'sod it' and set about looking for an alternative!

I ended up finding Nails Supreme, and grabbed both the Matt (#1) and Metallic (#2) sets from this UK seller on eBay at £36 for both. Not bad for 20 different colours, really! I wasn't sure what to expect but I was definitely pleased. Here, take a little look.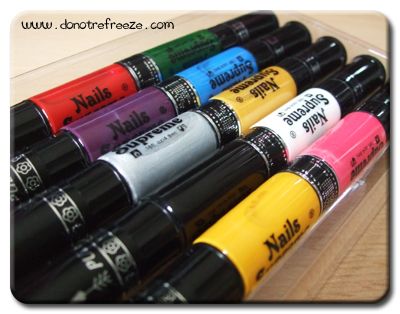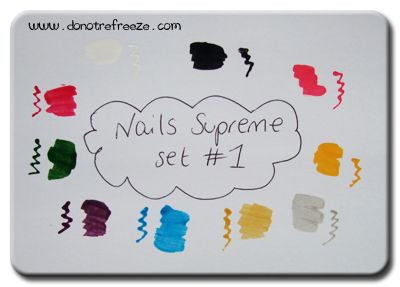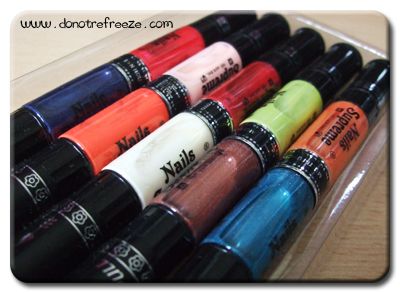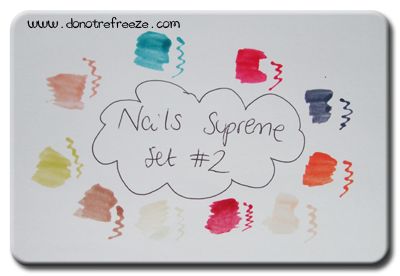 As you can see, all (well, most – not so much the pearly coloured ones from #2) of the colours are wonderfully opaque; no wishy-washy eBay watery rubbish here! They come with a regular sized polish brush for painting a base colour, and a tiny nib for intricate designs. If I could make one criticism here, I'd LOVE it if they had a thin striper brush rather than a regular brush. Stripers are so useful!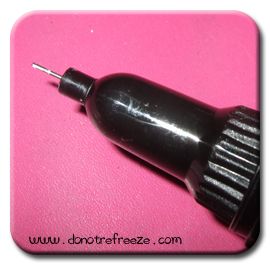 Here's the kicker – they are absolutely identical to Migi's pens except for the name printed on the barrel. Pens by both brands are interchangeable – they unscrew in the middle so you can switch colours around. Both brands have small flowers round the cap. Both brands include 4.8ml of polish in each pen. Even the boxes are stupidly similar!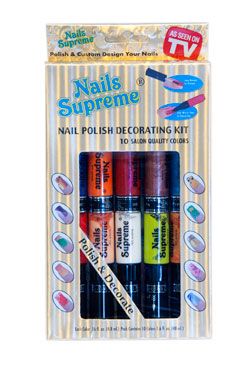 It's very, very obvious that these come from the same manufacturer. Despite this, when I googled it to see what other people had said, I couldn't find ANYTHING about it – I surely can't be the only one who's noticed this?
Migi do have a much wider range of colours – I think they have 5 permanent sets and they often have limited edition holiday sets, whereas as far as I can tell Nails Supreme just have the two sets. Shame really, 'cause I really like the look of the Migi pastel set!
Regardless of where or who they came from, I think these are fantastic pens and super versatile. I definitely recommend them – the seller I used on eBay was excellent (they were with me two days after ordering) and you can order the sets separately if you only want one rather than jumping in at the deep end and buying both like I did. Although, if you don't want to own that many colours and would perhaps just like to start off with black and white, I'd recommend the Models Own ones instead. You can see a post featuring one here.
Pros
:: They are basically Migi nail art pens!
:: Super opaque
:: Quick drying
:: Reasonable value for money
:: Imagination is all that's needed for limitless designs
:: Sets come with a little book of nail designs for beginners
Cons
:: They could really do with a striper brush instead of a regular brush
:: Set should also include a pin to unblock pens when required
Have you tried Migi/Nails Supreme pens? What did you think?