We all know that drugstore brands (particularly in the UK) are becoming more and more adept at making products from high end brands more accessible to those on a tighter budget – some might call it blatant copying, some might call it resourceful to be cashing in on the success of a more expensive product. Think along the lines of MeMeMe blush boxes – if you don't recognise what that's inspired by then you can hang your head in shame – call yourself a makeup addict? ;P

I'm kidding. Anyway, more often than not I tend to find that the drugstore versions of high end products tend to be just what they appear to be – cheap imitations with no hope of even coming close to matching the quality of their high end counterpart. I think that Sleek MakeUP have broken the mould and come up trumps with this offering, though.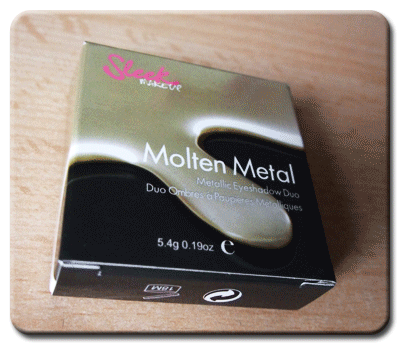 No prizes for figuring out that this metallic cream duo draws its inspiration from my beloved Illamasqua and their cult Liquid Metals. I have four liquid metals, but I have to admit that I barely use them because creams, by their very nature, crease! I occasionally use them as eyeliners but they largely lie untouched in my eye product drawer. I knew it would definitely be interesting to see how the Sleek MakeUP counterpart would hold up, especially after reading the accompanying press release which makes some very bold claims indeed.
"The intense coloured cream eye shadow smooths on to the skin like a dream and lasting long after the night has finished. Unlike most cream eyeshadows, Molten Metal stays in place whilst never creasing thus giving you a strong metallic look that will stay perfect."
*Cough*. Sorry Sleek, as much as I love you, there's no such thing as a cream eyeshadow that will stay perfect and never crease. But I will certainly test your application and longevity!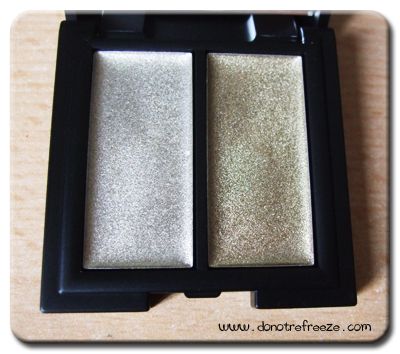 The duo contains two colours named Pewter and Gold Leaf. Naturally, I couldn't help but compare colours to Illamasqua's Surge (a pewter colour) and Solstice (true gold). You can see that the colours aren't dead ringers for each other, but colour isn't the main concern here – performace is! Top ones are Sleek, bottom ones are Illamasqua.
I first gave the Motel Metal a whirl as part of my Christmas Day makeup. Here's the photo again if you missed that post – I used the gold side of the duo and set it with Urban Decay's Maui Wowie eyeshadow, and I used a mixture of Inglot black eyeshadow and a touch of MAC Satin Taupe in the crease. Not setting a cream with an eyeshadow is just asking for trouble.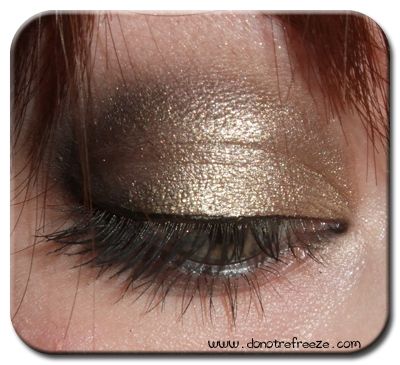 I must say, I found the Molten Metal easier to apply than Illamasqua Liquid Metal. I have to use Liquid Metal with a finger as it doesn't spread nicely with a synthetic brush (don't even bother trying to use cream products like these with a natural hair brush – NOT happening!), but Molten Metal glided on easy as pie with a synthetic brush. I also found it easier to blend powder shadows over it than the Illamasqua ones which sometimes end up being a bit too sticky to blend powders over. Nice job on the application, Sleek!
As for longevity, I did check how it was holding up in the mirror every couple of hours. It remained looking the way it did when I put it on for at least 6 hours, which I was actually very impressed with. No matter how much of a thin layer of Illamasqua LM I use, it's always started creasing before I've even finished the rest of my makeup. I took it off after about 10 hours of wear, when it had reduced to this:
Not very sexy, but certainly a bloody good job for a drugstore product that costs less than half the price of it's high end cousin. So to say it will last all night whilst never creasing and always looking perfect is definitely an exaggeration, but overall I am really, really impressed.
You should know how much it pains me to admit this, as Illamasqua is my favourite brand, but Sleek MakeUP have absolutely rocked this. Nice one, Sleek!
I don't know if there are plans in the pipeline to come out with more colours, but I would love it if they did. A rich Cadbury purple would be amazing!
Sleek MakeUP Molten Metal launches on the 5th January 2011 as a permanent product in Superdrug stores nationwide as well as on the Sleek MakeUP website. RRP £6.99.