Haha, I wonder how many creepy Google search hits I will get from that title.

If you follow China Glaze on Twitter, you may already be a aware of this, but for those who aren't or who missed the tweets, I HAD to show you this promo image for the upcoming Tronica collection!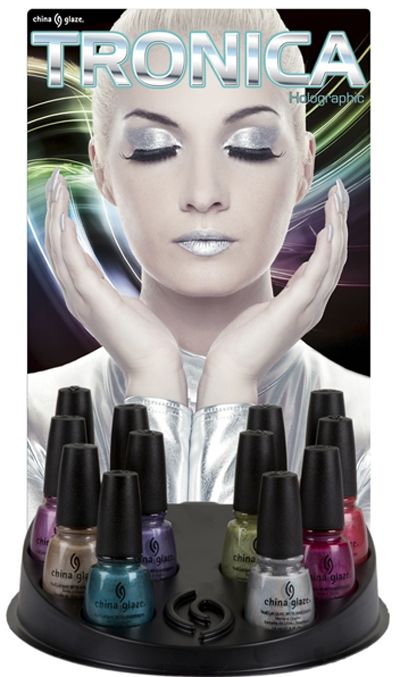 HOLOS! You know how I love me some holos :)
:: Techno Teal – Turquoise Holographic
:: Virtual Violet – Violet Holographic
:: Electra Magnenta – Magenta Holographic
:: Gamer Glam – Purple Holographic
:: High Def – Blue Holographic
:: Hologram – Silver Holographic
:: Hyper Haute – Rasberry Holographic
:: 3D Fantasy – Peachy Pink Holographic
:: Digital Dawn – Dusty Rose Holographic
:: Cyberspace – Taupe Holographic
:: Mega Bite – Gold Holographic
:: Laser Lime – Lime Green Holographic
Swatches haven't been released, but I can basically guarantee that I will want them ALL. Well, if I had to narrow it down… Techno Teal, Virtual Violet, Electra Magenta, Gamer Glam, Hyper Haute, 3D Fantasy and Digital Dawn. So not really narrowing it down at all. Haha!
According to the Twitter account, Tronica will be available exclusively at BSG from Jan/Feb 2011* and at Sally's Beauty Supply from March/April 2011. I'm not sure if these are just dates for North America and if it will be any later for the rest of the world, but if I find out I'll be sure to let you know.
So which ones are you loving the sound of?
*Don't know what BSG is? I didn't, either – check here to shed a little light.