I really need to work on getting these up earlier in the month. I also just decided that I'm not gonna do a December favourites in January – instead I'll do a 'Favourites of 2010′ like I did this year for 2009 :)

Anyway, November!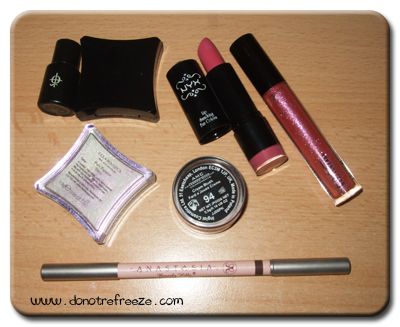 :: Illamasqua Liner Cake in Mislead (& Sealing Gel) – I was obsessed with this liner when I first got it, then it sort of lay neglected for a couple of months when I fell in love with No7′s Smoky liner. I got back into using this recently though, and can't believe I ever cheated on it! It can also be used with water but I much prefer the longevity and waterproof-ness (that's not a word, is it?) offered by the sealing gel. I apply it with a teeny tiny artist's brush. I swear no eyeliner brush is thin enough for me. It's a Daler Rowney S.34, you can get the same or similar in any craft shop for a few quid!
:: NYX Round Lipstick in Paris – You know, I can't even remember when I got this but I know I've had it for a good few months and have only recently started to appreciate how gorgeous it is. It's a lovely girly pink shade but with definite purple hints which make it much more interesting than your usual pink. I also think it's more flattering on me than something like a bright fuchsia.
:: MAC Dazzleglass in Money, Honey – It's just sexy. End of. This on top of NYX Paris was my most worn lip combo of November, so it'd be crazy not to include them. I love Dazzleglasses; I don't even mind their slight stickiness as it helps them last longer. I like that the glitter never feels gritty and somehow doesn't look like a discoball on your lips :)
:: Illamasqua pure pigment in Static – I challenge you to tell me of a product that encompasses girly festive makeup more than this. It's frosty, it's sparkly, it's pink. What more do you want?
:: Inglot cream blush in 94 – This is a little more sticky than any of my cream blushes from other brands, but I really like the shade so I can forgive it. To me it feels like quite a 'grown up' shade, if I wear something bright on the lips I prefer to not go for a bright pink or peach blush so this is my favourite blush to pair with the lip products in this post. When blended in well, it's the same sort of colour that my cheeks naturally flush.
:: Anastasia Perfect Brow Pencil in Medium Ash – I've never ventured into high end brow products, and the UK drugstore brands come up short when looking for an ash brown for the brows. They are often too red for me. I've had this for about a year now, the beautiful Jacie sent it to me as part of our UK-Australia swap. It used to be a little dark for my brows when my hair was lighter but since I dyed it darker this is the PERFECT colour for them. And it has the much appreciated brow comb on the other end – big thumbs up :)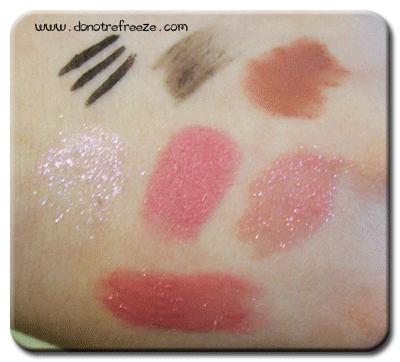 Top – Illamasqua Mislead, Anastasia Medium Ash, Inglot 94
Middle – Illamasqua Static, NYX Paris, MAC Money Honey
Bottom – Money Honey over Paris
Please feel free to link to your November favourites in the comments!