If you know a little about the basics of my polish loves, you'll know that a few of my all time favourites include some China Glaze holos. Specifically, TTYL and FYI from the OMG collection – these were very 'smooth' looking holos, for want of a better word. What I mean is, they didn't comprise any large particles or anything. But my ultimate favourite, I think, is China Glaze Let's Do It In 3D which was from the Kaleidoscope collection. This is more a of a 'chunky' holo – bigger, sexier particles and just an amazing appearance all round. Now, these two China Glaze collections aren't available any more apart from online outlets and eBay. I always wanted to get more of the colours from the Kaleidoscope collection but just never got round to it.

A while ago, I did a swap with Kayla from GlamGeekChic and randomly thought to ask for a few of the Milani 3D holos. I'd not actually heard much about them, I must have seen them in passing on somebody's blog and remembered the name. Good thing I did too, because they are quite frankly FREAKING AWESOME.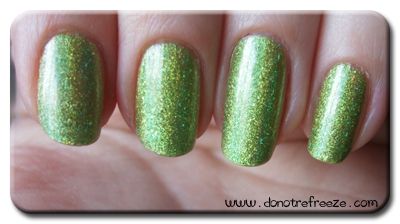 Meet Hi-Tech. I don't even know if this suits my skintone but I don't care because it's just so cool to look at. These remind me so much of the Kaleidoscope holos.
Hi-Tech is a crazy yellow-green colour that looks stunning in low light but just goes crazy under artificial light or bright sunlight. It can achieve full opacity in two coats, which is pretty good for a holo of this nature, and it dries quickly.
The thing I love the most about these is how deceptive they are! They look as if they're packed with crazy holographic glitter that would be a nightmare to get off, when in actual fact they are completely smooth to apply and a piece of cake to remove. I don't think I'll ever understand how 'chunky' holos have these properties, but they really are some of my favourite polishes of all time!
Sadly there's absolutely nowhere in the UK to buy Milani, and nowhere that I know of online either unless you get lucky on eBay or something. UK and worldwide ladies, find yourselves a swap partner in the US/Canada pronto to get your hands on these! At $5 each, they are a total steal.
Edit: I've been told that Milani is available in the UK from BeautyBase in Westfield shopping centre (Shepherd's Bush, London). Thanks Shortiee for the heads up!
I also have Hi-Res, a purple, Digital, a pink, and Cyberspace, a blue. Please let me know if you want swatches of those ones too :)