Morning! I hope you all had a wonderful day yesterday, that you got everything you wanted and aren't nursing too much of a hangover! :)

Most random gift of the year award goes to my dad, who was clearly running out of ideas and got me a Stylophone, but it definitely kept me amused for ages! He also bought the electronic version of Monopoly for us all to play – have any of you played it? It's awesome, you have bank cards instead of paper money and stuff, and the prices are huge in comparison to the traditional game. I won, by the way, after buying out both my parents, my sister and my grandparents with a grand total of £46.9m ;P What did you all get up to, what are your family traditions?

But I digress – I barely ever wear eyeshadow or anything these days, partly because I never have the time to construct an elaborate eye look of a morning, but mostly because I am much more partial to a black liner and pink lips look. Since it was Christmas, though, and I had plenty of time to put my face on, I thought I'd go for a nice festive gold and black eye. It felt weird wearing stuff on my eyes but kind of nice – perhaps I'll make more of an effort to do some nice eyeshadow maybe once a week or something.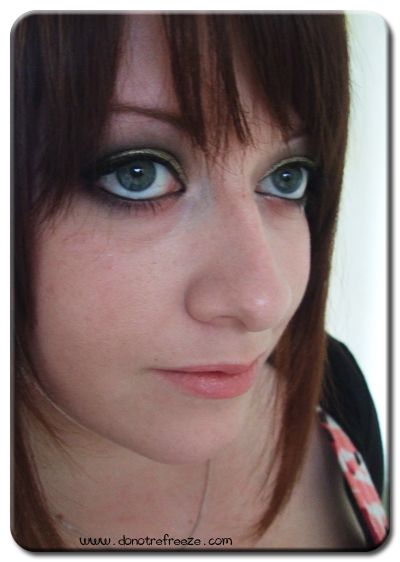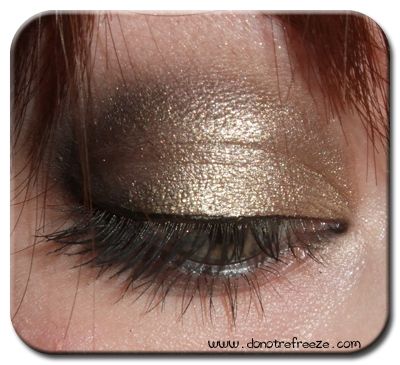 Face and Lips
:: Illamasqua Satin Primer
:: Kryolan Ultra Fluid foundation in Alabaster
:: Illamasqua powder blush in Rumour
:: Inglot cream blush 94
:: Eyeko Extra Glow cream
:: Revlon Super Lustrous lipgloss in Peach Petal
Eyes
:: Sleek MakeUP Molten Metal (Keep an eye out – review coming on Thursday)
:: Urban Decay Eyeshadow Maui Wowie
:: Inglot black eyeshadow mixed with MAC Satin Taupe
:: BeneFit Eye Bright
:: Bourjois black kohl pencil
:: Illamasqua eyeliner cake in Mislead
:: Collection 2000 Big Fake mascara
:: Anastasia brow pencil and brow gel
And of course, I couldn't possibly show you my Christmas day makeup without the nails as well! I must say they kinda look more like New Year themed nails than Christmas, but I wanted a gold and black theme to go with my eyes. Just an old black NYC polish, and the stars are from Bundlemonster plate BM21 stamped with China Glaze Passion.
What were you sporting on your face and nails for your festivities?