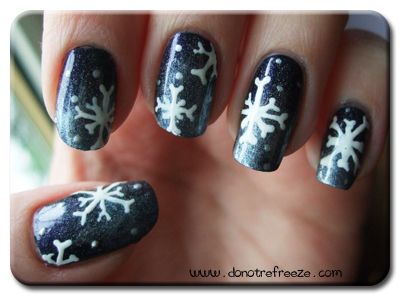 Super topical post heading your way! Most of the UK has been blanketed with snow over the last week, and yesterday morning all the trains to and from my little (apparently unimportant) town were cancelled and/or delayed indefinitely, so I had a snow day! I was glad, because I didn't think I was going to get time to do a nail tutorial for you this week. Since it's the 1st of December now, I thought I'd start churning out a few wintery/Christmassy designs for you, and what could possibly be more apt right now than snowflake nails? :D I even braved the blizzard to nip outside and take a couple of photos when I was done, check them out at the bottom of the post :)
I promise you this is mega easy. Start off with a dark blue base colour (or any colour you want, really). I used OPI Russian Navy – I think this is the only time I've used it in the whole of 2010 which is crazy, I forgot how pretty it is and it's really easy to work with. Anyway, once your base colour is mostly dry, sponge a little sheer silver onto the tips. You can use a clean foundation sponge, or eyeshadow applicator; whatever you have lying around. Try not to sponge further than about halfway down the nail – I went a little too far down on my middle one.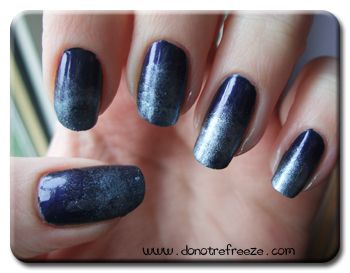 I actually have a Konad plate (and a BundleMonster Fauxnad plate come to think of it) with snowflakes on, but freehand is always much more fun so I just drew in some snowflakes with a white nail art pen. I varied their placement and size to make it more interesting, and although they look a bit intricate they're ridiculously easy. Look, here's a rubbish MS paint diagram I drew for you! :)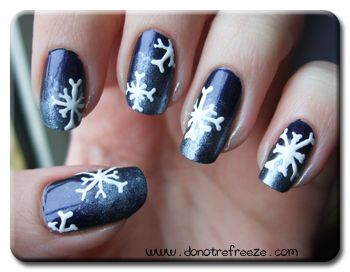 I decided to add in some silver dots after that, but you don't have to if you don't want to.
All that remains is to finish with a topcoat and clean up the edges (you will inevitably have a bit of cleanup to do from the sponging earlier on). I decided to use China Glaze Wireless Holographic topcoat to add just a touch more frosty magic :D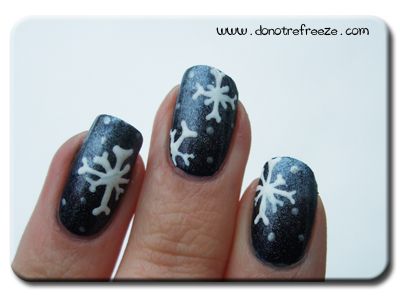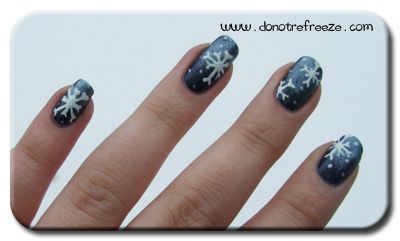 Really hope you enjoyed this festive nail tutorial and please show me if you give it a try yourselves! I always love to see :)
Hope you're all okay and keeping toasty despite the snow showers!
P.S: What do you think of the new wintry theme? Spent ages making a pretty new background and not sure how I feel about it!