Here's the next instalment of festive nail designs – really hope you enjoy, and maybe give it a try yourself! :D
As always, start with a clear base coat. If your nails are stained and nasty like mine, you might also want to throw on a coat of a French manicure polish to help disguise the yellow-ness. I put on a coat of Eyeko's Petite Polish, but if you have nice, healthy looking nails you won't need the French polish.
Once your base is dry, add green tips to your nails. Green glitter is the most festive I think, but if you haven't got one then any dark green will do! I used China Glaze Emerald Sparkle. Do the tips in whatever way you find easiest – you could use a striper brush to mark the outline of the tip first, or use tip guide stickers. There's even a Konad plate (M19) to do tips. Or you can just freehand it like I did – whatever works for you!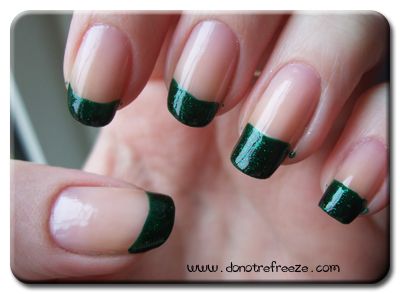 Once the tips are dry, add some sort of red flowers to one side/corner of each nail in whatever method you choose. I picked Eyeko Saucy Polish for this. I was lazy this time and stamped the flowers (fauxnad plate BM16) but you could maybe use red stickers or water decals, or go freehand. There's a lot of different types of flowers you can do freehand – please let me know in the comments if you'd like a post on that :)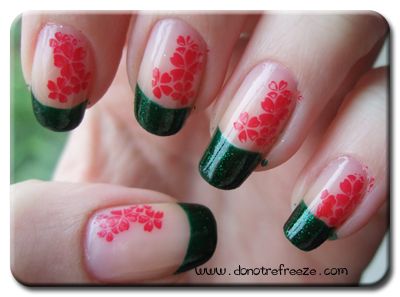 When your flowers are dry, you can embellish them a little if you like. I dotted the centre of each flower with a gold nail art pen and, for an extra sparkly touch, placed a gold rhinestone in the centre of the biggest flower on each nail.
Seal with a topcoat, clean up the edges et voila!
I really hope you enjoyed this. Have you decided what you'll be wearing on your nails for the 25th yet? Emerald Sparkle is my absolute favourite Christmas polish (although I'd love to own Party Hearty, also by China Glaze) but I wore it last Christmas, so might go for Ruby Pumps this year. I'm still undecided! Only two weeks to go!