I just wanted to take a little opportunity whilst we're still feeling all festive and loving to give a shout out to a handful of blogs that I love. They're not all necessarily new, but certainly deserve a lot more followers if you ask me!

Without further ado, let me introduce…
Lily is a northern stunner with training and experience in all fields of makeup from bridal to special effects and prosthetics. If you like FOTD posts, you'll love Lily's. They are KILLER, I promise you. And she's not afraid of voicing her opinion; check out this post about Dita Von Teese's makeup line!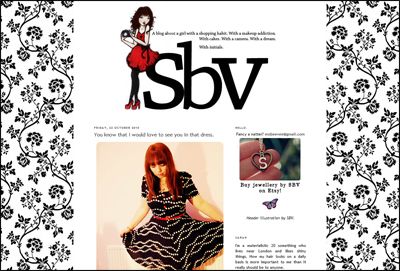 I don't follow many fashion blogs, but Sarah's freaking adorable blog is an absolute must-follow. I only discovered her blog very recently myself, thanks to a share the love post on the beautiful Sailor Jennie's blog. Despite that, Sarah's blog has quickly jumped into my favourites list. The girl has a seriously enviable collection of dresses; I am particularly enamoured with this one!
Not only is the gorgeous Kaushal full of reviews and F/EOTD posts, but she also posts some super resourceful DIY type posts. Check out her DIY Ring Holder, or the Kim Kardashian-esque hair chain!
In case you've been living under a rock, Kim is basically my BBFF (that's Blogger BFF), so you might say I'm biased but trust me, she writes some of best product reviews out there with a perfectly structured system. And she is the QUEEN of the leopard print mani, I swear. Check this bad boy out!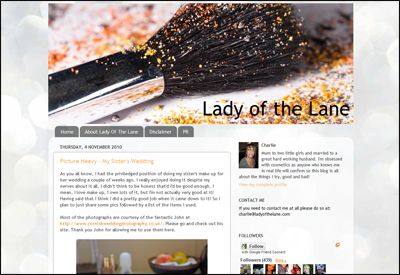 No word of a lie, Charlie is a true MILF of the first degree. A truly gorgeous woman, inside and out, with a real flair for this whole blogging malarkey. You will find every sort of post imaginable on Charlie's blog, and it's certainly not a 'jack-of-all-trades-master-of-none' situation, either. Everything she posts is simple quality! One of my favourites is from when she did the makeup for her sister's wedding – plus we get a cheeky peek of her adorable daughters!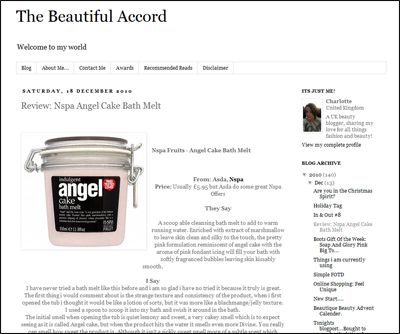 If you've been around the blogosphere for quite some time, you might know this Charly as 'What Charly Thinks'. She was MIA for a long time whilst she was bogged down with education, but she's since finished everything and is back under a new moniker! I love her reviews, check this one on N-Spa's Angel Cake bath melt – doesn't it sound divine? It would be great if Charly could be welcomed back into the bosom of the blogosphere with some new followers!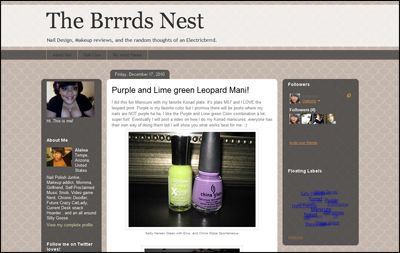 Last, but certainly not least – The Brrrds Nest. Alaina might be a very new blogger with only a handful of posts under her belt thus far, but I can tell she's gonna grow fast! She can probably rival Kim in the leopard print stakes – feast your eyes on this sexy little lime green and purple number! I for one can't wait to see more from Alaina and hope you like what you've seen so far as much as I do.
So there you go, some blogs to keep an eye on in 2011 if you don't already. Please feel more than free to suggest some blogs you love in the comments section, and I'll be sure to take a look if I don't follow them already!