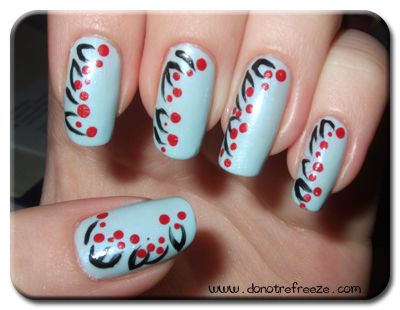 I've been meaning to post this one for a while actually, it was my weekend manicure a couple of weeks ago. I actually got the idea from a post I saw on one of the nail art Tumblr accounts. I follow about 7 of those and never saved the photo, so I'm afraid I have no idea who did the original design and don't have the picture to show you! Haha, just clarifying this wasn't all my idea. From what I remember, the girl who did it originally had a really intricate little birdie on her ring finger, but I think that's a bit beyond my skillz! In fact, mine doesn't even really look like berries on branches (which is what it's supposed to be), but it looks pretty cool anyway.
This was actually really, really easy. I used Eyeko Pastel Polish for my base colour, then used a black striper for the 'branches'. Easy as pie, just tiny, short flicks with the brush to taper the ends. Like so: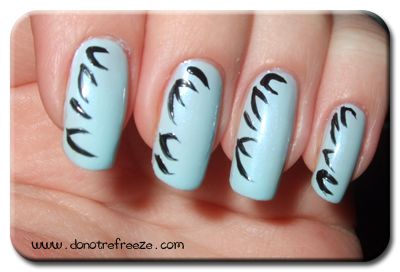 Then I just used a dotting tool with Eyeko Saucy Polish for the berries. I varied the pressure I was applying to the dotting tool so I had some larger dots and some smaller ones, because frankly I'm too lazy to use two different sized tools. And that's it!