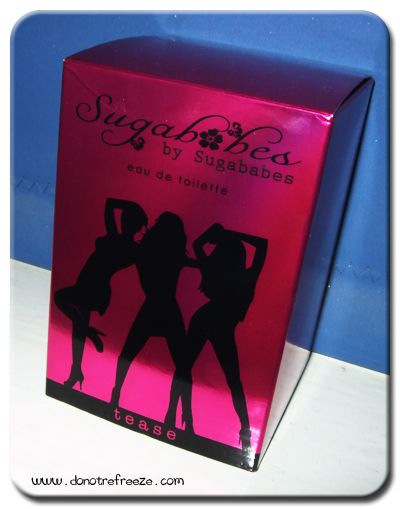 I'll be honest with you – I didn't even know who was still in the Sugababes without looking it up. But regardless of musical politics, you will surely all know by now that the girl band have released a collection of three fragrances – Touch, Tempt and Tease. I want to give you my opinions on Tease, and you also have the chance to win a bottle of it for yourself :)
Tease is the pink one. I have to confess, I'm not a great fan of the packaging. It looks okay in black (that's Tempt), but the round shapes look a little childish in pink and silver. But that's okay, perfume packaging doesn't bother me too much as it's not something I carry around with me and use in public! I like the box, though, which you can see at the top of the post. Besides, it's the smell that's important, right?
I never used to understand what top, middle and bottom notes meant when talking about perfumes. But since my initial curiosity a few months ago, I researched it and am now well versed in the lingo of perfumery! ;P In case you're unfamiliar with the terms, here's a little lesson for you.
Top notes are the scents you can whiff immediately upon spraying a fragrance and they are normally what make up your first impression of the perfume. If you have any interest in the chemistry side, top notes in perfume are usually small molecules of fragrance that evaporate the fastest. They normally fade after about 10-15 minutes of applying to your skin.
Middle notes, or heart notes, are the ones that become apparent just before the top notes have faded away. One of the most significant roles for the middle notes of a perfume are to mask the base notes (also known as bottom notes) for a while, as base notes are often not pleasant immediately on spraying and their scent improves as they linger on the skin. Heart notes usually fade after 35 to 40 minutes, giving way finally to the matured and improved bottom notes which can last about 4 hours before becoming unnoticeable on the skin.
So what notes are featured in Tease, then? The description tells us "Sexy and sultry, Tease is full of passionate tempo, an intoxicating cocktail of zesty lemonade and juicy pear with luscious jasmine and seductive magnolia". I'm not quite sure that lemonade is a nice description, it makes it sound as though it'll be sticky and sickly sweet but I don't think it is. There's certainly hits of citrus and pear in the top notes which I like as it feels refreshing and summery in this nasty British winter!
I'm a girl who knows her scents, and I couldn't detect much in the way of magnolia when the top notes wore off. There is a subtle hint of it but it's mostly overpowered by the heady jasmine, which is a hard scent to ignore. A potent aphrodisiac, though! After about an hour on the skin, you can really appreciate the base notes of honey and sandalwood.
Overall a really nice fragrance that should not be overlooked for its packaging! I don't think it's a particularly age-exclusive perfume, either, as although these are obviously marketed towards women in their late teens and early twenties I certainly don't reckon the scent would be out of place on ladies in their forties.
I definitely enjoyed it, anyway, and it's unarguably good value at £19.99 for a generous 100ml. Available exclusively at The Perfume Shop stores, but if you fancy your chances of winning one, here you go!
I know there's been a good handful of Sugababes fragrance giveaways recently but I decided to deliberately hold off on this until those ones had all ended, so if you didn't win anybody else's you can have another shot at winning an extra Christmas present! :)
Rules:
:: Comment below telling me what's top on your Christmas wish list this year!
:: You must be a follower of Do Not Refreeze, and you must also be a member of the Sugababes Fragrances Facebook Page if you're not already. Sorry, but them's the rules! I'll be checking that you're a follower here, and the sponsor will be checking you're a member of the Facebook page!
:: Don't forget to leave your email address in the comment so I can contact you if you win.
:: UK Only – sorry about that, international girlies, but the prize will be sent by the sponsor this time.
:: Open for one week only – entries will close on Monday 6th December at 11.59pm GMT. Winner will be chosen via random.org and announced the following day.
Good luck girls!