I'm sure that quite a few of you will have already heard on the grapevine that bloggers' favourite Models Own and on-trend London nail boutique WAH Nails were coming together in what promised to be an exciting collab. I've been a fan of WAH's fun, distinctive designs for some months now so travelled to the delightful place known as Hackney (well, Dalston) with Kim last Thursday night to check it all out.

We were treated to getting our nails did WAH-Style, and milled around a little bit taking photos and sipping some lovely iced tea/vodka concoction.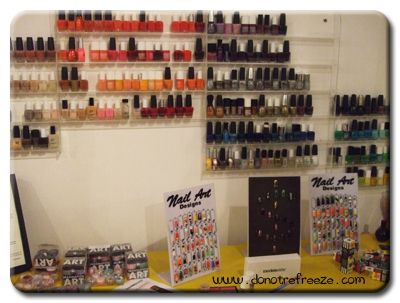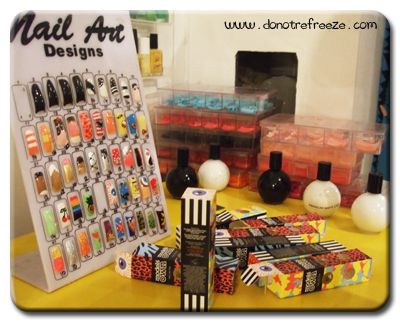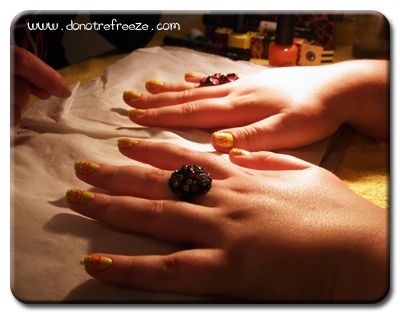 Kimmy getting did!
When asked which design I'd like on my nails, I couldn't decide so I ended up having it decided for me by one of the WAH girls. She picked Camouflage, which on the menu looked really intricate and awesome with yellow, pink and blue so I acquiesced. When I actually had it done, however, it was something I could have easily done myself (and in fact have done before) so I wish I'd gone for something else so I could watch and learn how the design was created. I have to confess – this was the first time I'd EVER had my nails done by someone else and I'm not in any great rush to do it again. I felt weird letting someone else do their thing with my precious nailies, and the tech who was working on me was a little.. aloof. She also filed my broken middle nail MEGA short despite me asking her not to take any length off my nails since I'm used to having them long and I'd just had to cut them all down 'cause of the break. *Sigh*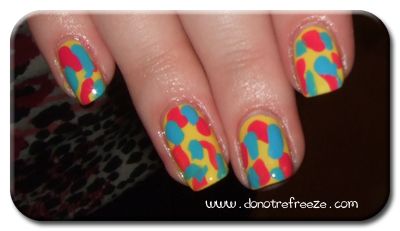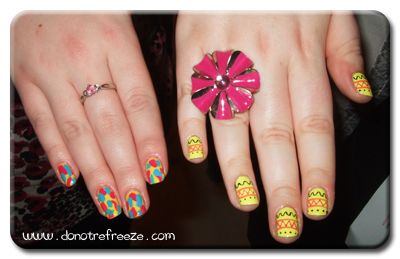 Kimmy went for the Aztec design – pretty cool huh?
I really liked the Aztec design that Kim had, just not my sort of colours, but I'm hoping it'll be a cinch to recreate this look with the new WAH Nails/Models Own nail art pens! As is the norm with nail art pens, they feature a nib at the top for fine detail and a thin brush for lines and so on. I haven't tried it yet but I'm going to take it as a given that the quality will far surpass the crap, watery generic eBay ones I've used in the past.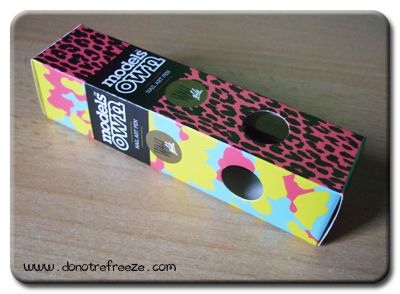 Just a look at the box for now – will have a seperate post on the pen itself!
The pens release on the 15th of November, from www.modelsownit.com, initially just in black and white but the range will eventually expand to include all 99 of Models Own's current colours! That's insane, right? The pens retail at £6 each. If you were to only want a few basic colours (like black, white, red and maybe a couple of others) that's certainly a reasonable price but if you were looking to own a large variety of colours this might work out a little expensive. But before we judge anything here, I'll have to use the pen first! ;P Watch this space.
Thanks to WAH Nails and Models Own for a lovely evening :)