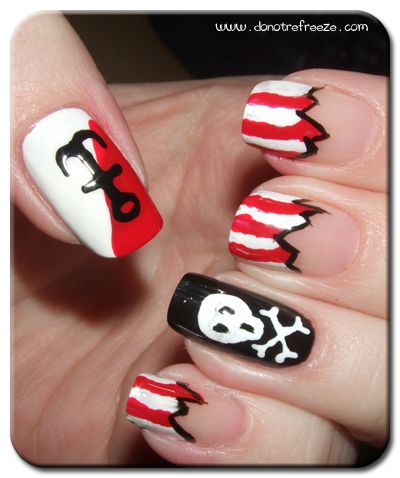 Ahoy, me hearties! Sarah gave me the idea for this design – I was complaining on Twitter about having no ideas and she suggested 'something piratey'. And here is the resulting booty!
I plundered and pillaged the design on the index, middle and little fingers from IHaveACupcake's YouTube channel – when Sarah said piratey I immediately remembered her recent pirate themed Halloween design and knew I had to include that particular part in my design! Anyway, I took step by step photos for you, so let's go!
:: Paint your ring finger with black polish, and your thumb with half white and half red, diagonally. I reversed this on my right hand – black thumb and red/white ring finger, although you could keep it symmetrical or mix and match the designs however you like.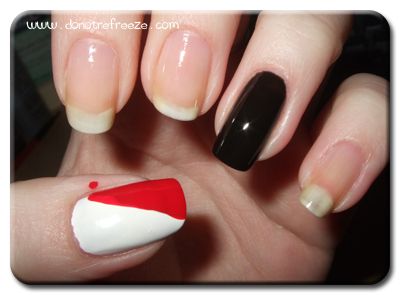 :: Paint white stripes of uneven lengths about halfway down the remaining nails. I used a normal white polish and a nail art brush, but you could use a white striper if you have one, or even just be careful with the full sized brush on a normal polish. It doesn't matter if they're not neat, it all adds to the organic feel of the finished design.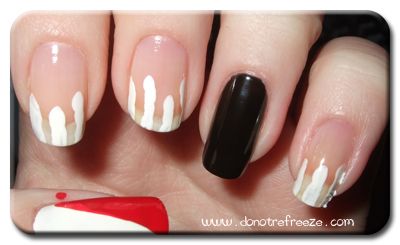 :: Fill between the white stripes with red ones, keeping the lengths uneven. Please don't worry about getting polish on your fingers, you can clean it up at the end!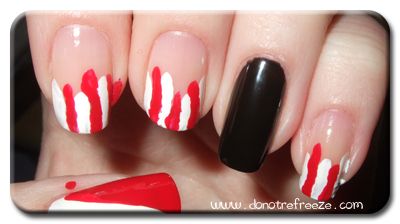 :: Now, with a black striper or black polish and thin nail art brush (or liquid eyeliner if you don't have either of these), outline these stripey nails with jagged lines. Again, if you mess up a bit it only adds to the feel of the design!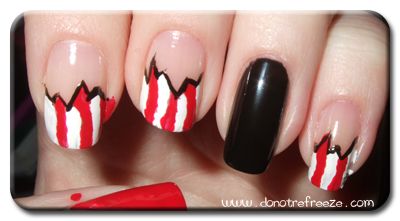 :: Ensure the thumb and ring nails are completely dry before continuing. I actually applied a fast dry topcoat to these nails before continuing with the others to make sure they'd be dry for this part. Draw an anchor onto the thumbnail with whatever you have – black nail art pen, striper polish, nail art brush, liquid eyeliner etc. I used the Models Own/Wah Nails pen. An anchor is mega easy – just do a vertical line, then round it off on each side at the bottom, draw a horizontal line across the middle and a little circle at the top.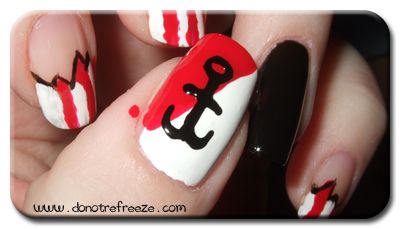 :: Next is the skull and crossbones on the ring finger. I used a white nail art pen, but aside from white polish and a nail art brush I'm not sure what else you could use! If you have any ideas, please let me know :) I'm not really sure how to explain drawing a skull and crossbones but I know you're all capable! I added the eye and mouth holes in the skull, but I think that made it kinda look like a cute mini Scream mask instead. Haha!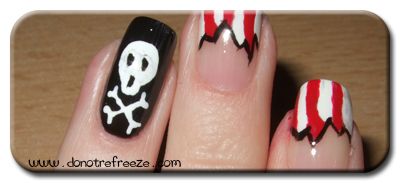 :: Apply a topcoat to seal your treasure. Once dry, proceed with clean up of mucky fingers! I use an old eyeliner brush dipped in acetone for my clean up, but a cotton bud dipped in polish remover will do. Et Fin!
In hindsight, I should probably have drawn the anchor and skull up the other way because of the way I photograph my hands… Never mind!
Hope you enjoyed! :)