Here is installment deux of my monthly favourites…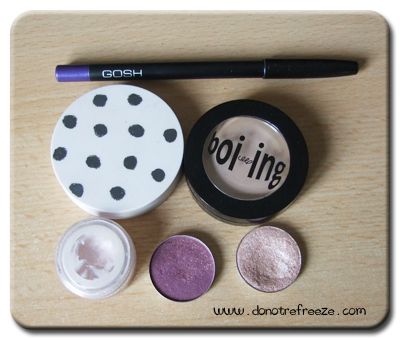 :: Topshop cream blush in Flush – I've had this for quite a few months now but have only recently started to appreciate how great it is. Such a beautiful peachy pink colour which is a great multitasker as it also looks fab on the lips. Absolutely foolproof to apply as well, I prefer to use my fingers rather than a brush. I just dab a few dots on each cheek and blend away!
:: BeneFit Boi-ing Concealer (01) – I have to admit I was totally pressured into buying this by a pushy Benebabe but it's my own fault for having a total inability to say no. Aforementioned Benebabe actually cornered me when I was looking at the Revlon stand a good 30ft away from the BeneFit counter, which she promptly dragged me over to and proceeded to slap a load of stuff on my face. It didn't look half bad, really, but since Boi-ing was the cheapest product she used I just said I'd take that one. At £16.50 it's a lot for a concealer in my books but it is good. Still not sure if it's £16.50 good but definitely the most industrial strength concealer I own. I melt the product a little with my fingers before applying to blemishes and dark circles and blend in with a brush.
:: GOSH Velvet Touch eyeliner in Purple Stain – I have a few different colours of these, but they shamefully lay neglected in my eyeliner drawer. In the last few weeks though, I've been slowly introducing a bit more colour back into my makeup (is it just me who loves purples in the cold months?), and have been loving this on my lower lashline. Applies super smooth with no dragging in sight, and doesn't suffer badly if I forget to set it with an eyeshadow. Thumbs up!
:: Eyeko Extra Glow Cream – That's the little clear jar in the photo. The big pot is somewhere in one of my cupboards but I keep a 5g jar in my cheek product drawer and one in my makeup bag for convenience. I really do love this so much for highlighting as I'm so pale and cool toned, it's much more flattering on my skin than a gold toned highlighter. I use it most days on my cheekbones but occasionally highlight other areas. I have a full post on this here.
:: MAC Eyeshadows in Trax and Grand Entrance – These were probably my two most used shadows last month so I should include them. Grand Entrance has always been a favourite of mine, it was my first proper MAC product (I say proper, before that I had a sample of Vanilla pigment). Unfortunately though it was limited edition last year, I'm not sure of any dupes. Trax sometimes takes a bit of work for a strong colour payoff but it's worth it in my opinion, such a pretty plum colour made more interesting with gold sparkle in it. At the bottom of the post I've included an EOTD with these two.
Top – Topshop Flush, Eyeko Extra Glow, GOSH Purple Stain
Bottom – MAC Trax and Grand Entrance
And here's an EOTD with Grand Entrance on the lid, and Trax in the crease and lower lashline. Can't remember what else I used here, but never mind!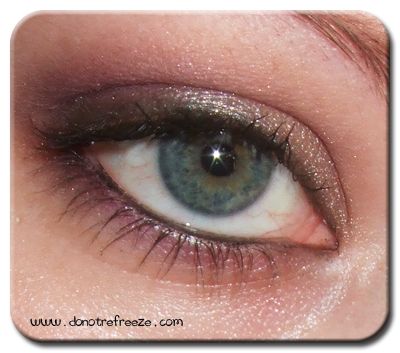 Feel free to link to your October favourites in the comments, I love reading them!