You would have to have been living under a rock for a while to have not heard about John Frieda's brand spanking new foam hair colour. I'm quite sure there's been foam hair dyes before, but I'm equally sure that this is the first time the idea has been brought to the UK mass market.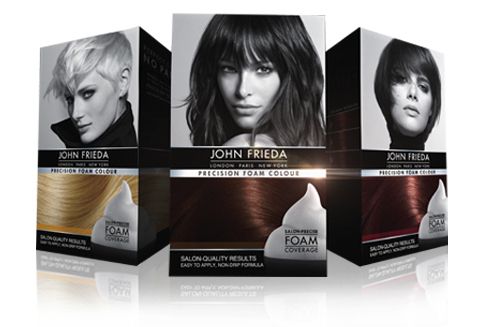 I used to dye my hair a LOT when I was in school and college – I've been black, pink, bright orange, blue, purple, all that good stuff. But until recently I hadn't dyed my hair in about 2 years! For that reason, I was keen to try out John Frieda's offering when asked. The colour I used was Medium Chocolate Brown 5B. Original naming system ;) I'll start you off with a picture of my natural, unstyled, 2-days-dirty hair. Sexy… naaaht!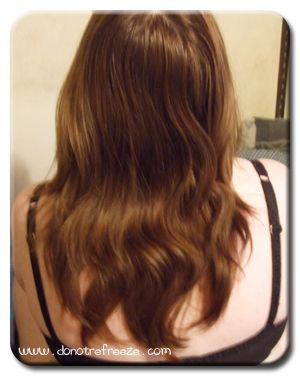 A quick note – I apologise for the shoddy quality of the photos in this post, Colin did the dye job for me over the weekend at his house and I forgot to take my camera, so we're having to make do with phone pics here. They are still surprisingly colour accurate!
I'd never used a foam hair colour before – in fact, I'd never even heard of them until now. Colin was ready to just jump straight in there without reading the instructions but I'm bloody glad I stopped him and read them. There's a few little differences to normal hair dyes. For a start, you have to tilt the bottle (five times exactly) when you add the colourant into the developer, as opposed to the mad shaking you would regularly do. The instructions are very adamant that you must not tilt more than 5 times and you absolutely must not shake! You also have to refrain from tipping the bottle upside down. You must squeeze the product into your gloved hands before applying to your hair. But once you've memorised those few little rules this is seriously the easiest dye job you'll ever do at home.
Once you've combined the developer and colourant with your dainty tilting action, the concoction in the bottle remains remarkably aqueous. I was worried that we'd already done something wrong, but nope, give the bottle a little squeeze from the middle and POW, you get a handful of foam! I have to admit, it was a lot of fun to use. And I also should comment on the smell – it's actually quite pleasant when its a good few inches away from your nose. If you give it a sniff, though, there is the familiar cat-pee scent of ammonia.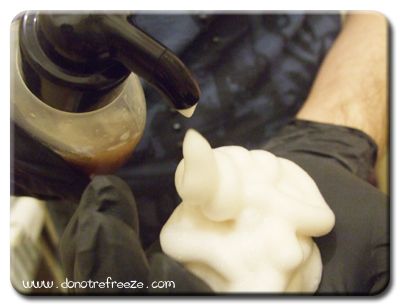 The instructions suggest beginning with your roots along the natural parting of your hair, then to just apply the foam in sections and massage gently, adding more and more foam until your hair is over-saturated with it. Now, as I've always had long and ridiculously thick hair, I usually buy two lots of dye to cover all of my hair and did briefly worry that I wasn't going to have enough in this instance, but the foam does go an awful long way and I was relieved to discover there was enough. Here's a flattering shot of the back of my head during developing time.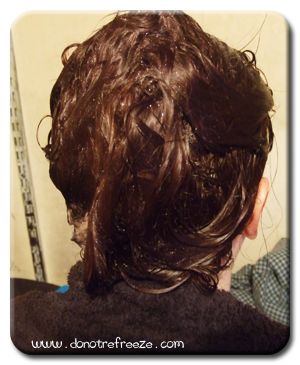 In the photos on the instructions, the model's hair is very white with foam but as you can see, mine wasn't. It does say 'Your head should be as frothy with foam as the image'. I'm not sure if maybe he massaged too much, or it's just that I have so much hair that there wasn't any excess to pile on top to make it look like the photo. Regardless, the colour came out just fine. In fact, I REALLY like it. I wouldn't describe it as chocolate brown, though. It's definitely more of a red brown, in fact my parting looked distinctly red for the first couple of washes. That might be down to me losing track of time and leaving it on almost 10 minutes past the developing time.. oops. Haha.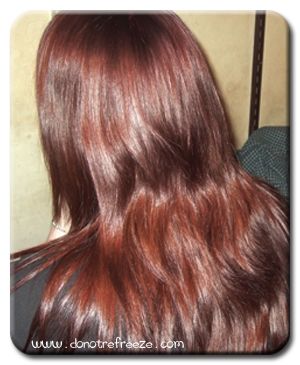 Here's the results, straight after blow drying. A really multi-tonal colour with obvious red tones. I've had a lot of hair colours before but nothing very similar to this so I'm enjoying it :)
Although Colin did it for me, I shouldn't imagine I would have had any difficulty whatsoever if I'd have done it myself. Seemed a damn sight easier than regular dyes, anyway! If you have very long and thick hair like mine and you usually use two boxes of dye, note that I had just about enough to do mine here. If your hair is much longer you might need to buy two, but this is a little more expensive than regular colourants.
John Frieda Precision Foam Colour is available in 20 shades from Boots and Superdrug stores nationwide. RRP £9.99. Bear in mind that Boots are currently offering 33% off so you can grab it for £6.66!