First off, big apologies to any of you who couldn't see my images over the last couple of days. Colin and I could not figure out what was wrong as we couldn't work out any common factor between the people who couldn't see them! He's moved my hosting now, though, so I'm hoping it will have straightened itself out by the time this post goes live.

On to the matter at hand – Illamasqua Nail Quills. I have to say, for me it's a nay. If you know me at all you'll know that Illamasqua is my absolute favourite brand, but I won't be buying a set of these. Have you seen them?
I remember when we first saw them on the Illamasqua blog, Kim and I were both like 'wtf, cufflinks?' – haha! Still puzzled as to what they are? Check out this video:
Admittedly, they are definitely eye catching and unique (I've not seen anything like them before, anyway) but they really aren't my sort of thing. Just a little impractical! And a little expensive – these will be going for £35 a pair. Sorry, Illamasqua, but I think that's a little steep even if they are handmade! They look amazing for a photoshoot, but they're a bit beyond my needs. In fact I think they're beyond most everyday consumers. Or am I wrong? I can imagine that if they were a bit cheaper, they might be quite tempting as something unique to wear for a Christmas party. I'm quite interested in the new matte nail polish in 'Scorn' though.
How about you? Do you want to try out these tantalising talons or are they a bit too much for you?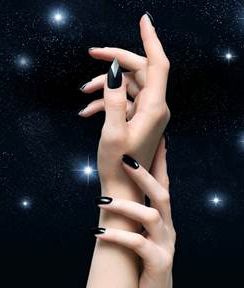 Illamasqua's handmade nail quills will be available exclusively online and from the flagship store on London's Beak Street from the end of November.