Thank you all for your input on my inpromptu post last night! I really appreciate anything you have to say – you ARE my readers after all! You might be interested to know that I actually have a tutorial scheduled for Saturday, and a Question of the Week post for Monday! Eyes peeled, laydeez :)
Kayla was generous enough to include some extras during our recent swap, and one of these was Milani's 3D Glitzy Glamour lipgloss in Designer Label. It's totally my sort of gloss, I loved it the moment I saw it, but didn't twig how identical it was to another lipgloss I already own: MAC's Bare Necessity Dazzleglass.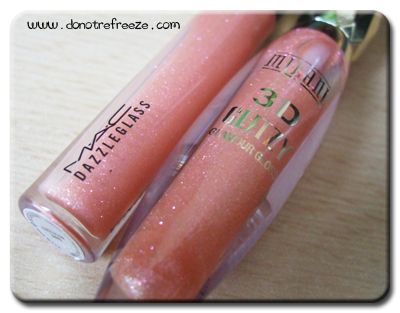 Tell me they don't look absolutely identical in the tube? There are certainly some pros and cons to each. Milani is obviously cheaper, retailing at $6.49 but we have nowhere to get hold of it in the UK – even eBay came up short when I just checked. MAC, while more expensive, is more accessible in the UK, but to anyone on a budget in the US I would definitely recommend the Milani one! The Milani also gives slightly more product, with 2.7ml vs MAC's 2.4ml.
I swear they are exactly the same to look at. Nude peach with plenty of golden pink sparkle. Take another look at the tubes.
Designer Label is actually nicer to wear because it's less sticky, but it's up to you if you want to sacrifice the extra bit of money for the nicer packaging of MAC – Milani's packaging is SO tacky! Haha but then again, if you like a bit of tack then go for it. I stupidly forgot to take a photo of the packaging, so if you're not familiar with what they look like check this out.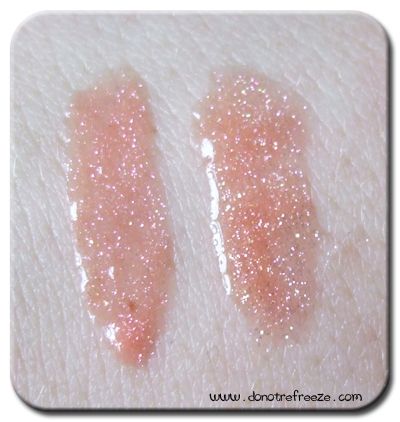 I'm not even gonna bother telling you which one is which, because as far as I'm concerned you wouldn't be able to tell the difference anyway!