I feel like I never really post enough about makeup – I can just never get good pictures of my EOTDs (they look good in real life and absolutely pants on camera), and I hate doing FOTDs because I've grown about 8 more chins this year. Sexy.

I'm well aware it's the middle of October so this is a bit late by conventional standards, but I've never done a monthly favourites post before (at least I don't think I have) and it's what I really felt like posting, so that's that!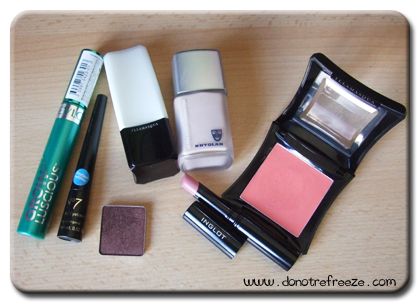 :: Revlon Grow Luscious Mascara – Two coats of this give me the sort of lashes I love. Not ridiculously long so they're touching my eyebrows, but certainly lengthened, volumised and well defined. No clumps so long as you wipe the tip of the wand before applying – the wand is pretty huge but I've adapted to it.
:: No7 Smoky Eyeliner – Can't believe this was only limited edition. No7 NEED to make it permanent, and a few more colours wouldn't go amiss! Absolutely foolproof product that has me totally converted to smudgy liner. I used to ALWAYS previously opt for a precise, defined line with liquid or cake. I still do that sometimes, but most days, especially if I'm in a rush, this is so quick and easy to use and looks fab.
:: Illamasqua Satin Primer and :: Kryolan Ultra Fluid Foundation – These two combined create EXACTLY the sort of base I love. Covers the redness of my blemishes and evens the skintone perfectly with no cakey-ness in sight. Feels light as a feather and glides on even more effortlessly with the help of the primer. Definitely check out my review on the foundation if you've not seen it already.
:: Inglot eyeshadow 421 – Not much I can say about an eyeshadow apart from the usual, but Inglot eyeshadows really are something else. Ridiculously good pigmentation, applies so softly it almost feels creamy, practically blends itself and really brings out my blue eyes. I love to mix this with a touch of MAC Satin Taupe and pull it through my crease to create a defined eye, with a creamy neutral colour on the lid.
:: Illamasqua cream blush in Rude – Absolutely beautiful colour. Very pigmented so can be easy to go overboard with application but nothing a quick buff with the brush you used to apply your foundation won't sort out. Some prefer to apply cream blushes with a duo fibre brush but these are so pigmented that I find you can control the amount of colour more with your fingers. I've learnt that swirling my finger round the pan once provides enough product for both cheeks – I just pat a few dots on each side and blend with my fingers.
:: Inglot slim gel lipstick 52 – Gorgeous pinky nude. A bit too much pink in it to be considered a natural lip colour, but certainly not a very bold shade. I LOVE it. Incredibly long wear if you apply with a brush, blot, then apply another layer. Feels moisturising on the lips and I can imagine would be flattering on most skintones. Can't fault it!
The following swatches are one swipe of each product straight onto bare skin. You can see how crazy pigmented the blush and eyeshadow are!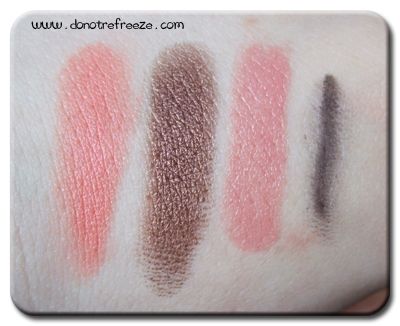 Illamasqua Rude, Inglot 421 e/s, Inglot 52 l/s, No7 liner
So, how did I do for my first monthly favourites post? Okay? I love reading these posts so please feel free to link me to yours below :)