I've never, ever wanted a MAC nail polish before simply because they've never brought out a colour that enticed me enough to buy one. I'd heard before that they weren't very good, but still felt there was a place in my collection for a bottle or two of MAC polish. When swatches for the Venomous Villains collection appeared on Temptalia months ago, I decided that Bad Fairy and Mean and Green would be the ones to make me take the plunge. They looked SO cool! So I refreshed the site constantly on the day it was released online in the UK as I knew they'd sell out quickly. I managed to grab them and they arrived pretty quick.

But my GOD was I disappointed! So much so in fact, that I've already sold them. Haha. I'm not even going to go into Bad Fairy – barely ANY duochrome in it like I thought there was and frankly a huge fail. I only swatched it on one nail then took it straight off. Boring. And it was an absolute pain in the arse to remove, by the way – the sparkle gets all over your fingers and takes ages to get off completely. I did really like the colour of Mean and Green though, here you go…
Undeniably a cool and interesting polish, I don't own anything else like it. I think I'll keep this on for a few more days because I won't be able to wear it again, and also because I'm NOT looking forward to the hassle of cleaning my fingers up! So you wanna know why I hate it so much?
The fuckery is in the quality. It needs three reasonably thick coats to reach opacity, it takes an absolute age to dry and the BRUSH! Oh my god, the brush. Look at this shit, will you?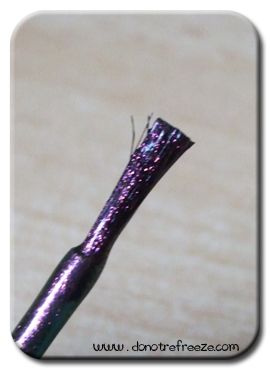 Sorry, but if I pay £8 for a nail polish I expect a decent quality brush thank you. Not something cheap and stiff with bristles splaying out all over the shop. How MAC can get away with charging so much for such a load of crap, I will never know. I did consider trimming the splayed bristles, but that's just too much hassle when the remaining bristles would still be stiff as a board. Not to blow my own trumpet or anything, but I know I'm good at painting my nails. Yet, I had SUCH a hard job trying to get this one to look good. Not a fun experience.
I might have lost out on a few quid but at least I've satisfied my curiosity and don't think my polish collection is lacking anything at all sans-MAC.
Did you get any of the Venomous Villains polishes? Did you love them or hate them? I hope that if you got them, you get on better with them than I did!