If you didn't know already, October 2010 marks the 10th birthday of Eyeko – yay! Anyone who reads my blog should have a good idea that I'm quite the Eyeko fan since discovering them a couple of years ago at an anime expo! I had a lovely time sipping cocktails with gorgeous bloggers at their event on Saturday evening (yes, I finally met Kim!), which culminated in winning a Spice Girls CD signed by Emma Bunton! Many thanks to my partner in Eyeko body art, the excruciatingly talented Klaire de Lys from YouTube, who's awesome design on my arm netted us the signed CDs! Unfortunately I only took one picture of it myself and it was really blurry, but I distinctly remember about 20 people taking photos of my arm so if you were there on Saturday and have one, please email it to leanne at donotrefreeze dot com! Thanks :)

Ooh hello Baby Spice!
At the event we were shown plenty of new products heading our way. You might be interested to know that Eyeko are finally coming out with BLUSHES! Although to be honest I didn't fall in love with them – they were a bit too shimmery for my tastes and the packaging looked a bit cheap if I'm being critical. Also, they've brought back the cult favourite Fat Balms in the original three scents, plus three more (Toffee, Frosting and Cherry). These have been rehoused in sleek dark grey tubes and smell divine! I was most enamoured with the new Liptastik crayons – think along the lines of the Barry M lip crayons but much more gorgeous and glossy, and with a twist-up tube so it never needs sharpening! None of these are out yet, but I'll provide you with some images and more information when they are.
Already available here are the new London Lips glosses. At £6.50 for a generous 13.5ml of product each, I actually think they are pretty good value and something of a stand out product for Eyeko. There are six shades, all named after places in the capital. Three are lighter colours with sparkle, the other three are packed with colour but sans-sparkle. I have Portobello and Shoreditch to show you here: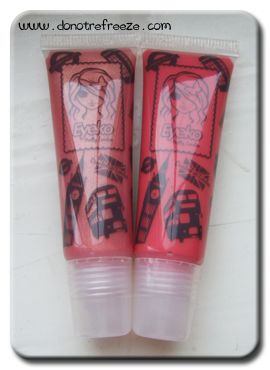 Portobello on the left, Shoreditch on the right.
Portobello is a subtle colour with a gold sparkle that imparts a pretty rose gold shimmer to the lips which packs enough punch to be worn alone but isn't too bold. Shoreditch swatches pretty opaque but wears quite similar to my actual lip colour plus lots of shine! They are slightly sticky but this helps with longevity – I'll be reaching for these glosses quite frequently, I think!
Now, the thing I'm most happy about – this is the great news. I'm sure you've noticed me say at least three times lately that Eyeko NEED to bring back Pastel Polish after resurrecting Punk and Saucy from their original line – THEY'VE DONE IT! *Squeeeee*

I think the only reason the old one looks a touch greener is because it's SO old… I can't even shake it up any more but could never bring myself to throw it away because I loved it so much!
Pastel Polish was my absolute favourite of the original polishes, and comprised part of my first ever Eyeko haul at the anime expo. It's an impossibly beautiful shade of pastel blue (no way), but with a subtle blue shimmer that stops it from being chalky – I think that would make it look AMAZING on darker skins. It does need a good three coats to look it's best, but it's so worth it.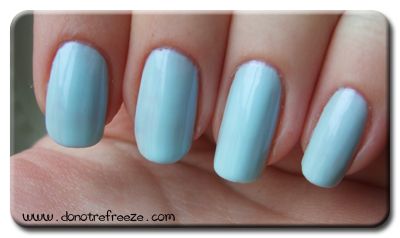 It's really difficult to capture the shimmer running through it in photos (especially since the sun doesn't seem to want to come out lately) but you can see it slightly better here…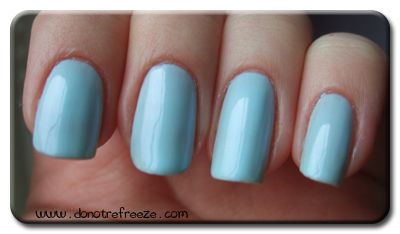 I am ever so happy that they've brought it back. Grab it here for £3.50 before it's gone forever!
Sorry for such a long post – to reward anyone who gets this far for doing so, I'm going to give away an Eyeko product to three random followers who comment on this post at the end of the week. I'm not making a big thing of it – if you win, I'll find a way to contact you, I won't make an announcement post or anything. Please don't say 'enter me', or I will have to slap you (well, not really, I'll just delete the comment). Please don't comment without actually having something worthwhile to say, it's not hard!