Following my recent Halloween Nail Fail (which I thank you all for being nice about!), here's something I'm much more proud of! I recreated my drips manicure that seemed to be quite well liked but switched up the colours for Halloween!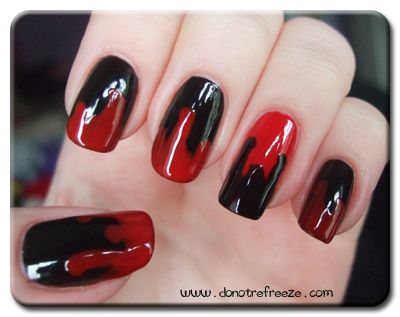 I did explain in the best words I could how I did the drips manicure in the other post, but this time I've got pictures to help. Over your base colour (mine was just an unlabelled black, with Eyeko Saucy Polish on the ring finger), apply two or three streaks with your chosen drips colour starting from varying heights up to the tip of the nail.
Then, just fill in between the lines to make it look more drippy. Seemples!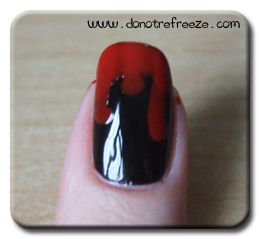 It really is super easy. You could do it with absolutely any colours you wanted – naturally I chose the red drips for blood and just alternated the colours on the ring fingers to add some interest. One thing I will say is if your base colour is dark, make sure your drips colour is quite an opaque one as you'll need to go over your drips about a million times with a sheer one!
I hope you like :)