Hi girls – I have a new job. I actually started last Wednesday but I had a couple of scheduled posts left, now I've run out of them I need to find blogging time! It's only another crappy waitressing job. Well, I do love waitressing but I hate the place I'm working now. I'm still trying to get used to the amount of energy I have to use up there, running around all over the place for 8 hours a day with just a five minute break for my poor feet!

Anyway, by far the most requested thing in my rhinestone giveaway was Halloween themed nails. I actually have a really cool idea lined up which I think you'll like, but I need time to do it (yup, can't wear nail polish… back to square one! Haha). In the meantime, I apologise profusely for this shoddy offering and hope you'll forgive the AWFUL application and unimaginative design!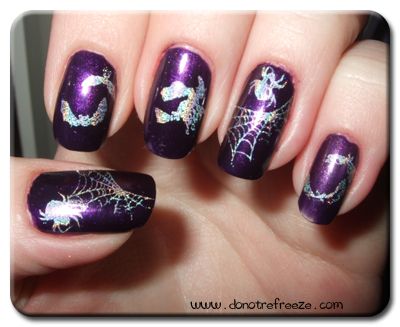 The base colour is one of my favourites, Illamasqua's Baptiste. All of the designs come from BundleMonster plate BM13 – I wonder if it was a coincidence or deliberate that all the Halloween designs are on plate number 13? Haha. I stamped with GOSH Holographic, which I've had for so long it's starting to get impossible to work with which is what I'm blaming the truly terrible stamping on.
I kind of didn't even want to post this but I hate going MIA on you guys. I promise I'll sort myself into more of a routine soon, it's just a case of getting used to the new job and that! I get Mondays off so that should become my blogging day where I can line up posts for the rest of the week, but last weekend I was at Colin's and will be again this weekend – busy bee!
Please be patient with me and I'm sorry for the incoherent ramble, I am in desperate need of sleep and rest! Hope you're all well though, and have a fantastic weekend for me won't you! *sloppy kisses* xxx
P.S: In case you couldn't figure out what that was on my middle finger… It's a witch on a broomstick.