You probably know that I tend to get a bit irate when everyone posts about the same 'next-big-thing' product at the same time and my dashboard gets full of regurgitated posts… but I've actually looked at EVERY post in my dashboard about Barry M's Instant Nail Effects since it launched a few weeks ago.

I've been searching high and low for it, getting more and more disheartened each time I sloped into a Boots or Superdrug and saw an empty row where it should be before miserably shuffling out again, my purse crying out to exchange a bit of it's contents for a bottle or two of Instant Nail Effects.

When I was in town yesterday, I'd almost given up – I went into Accessorize looking for the new stuff, but they had none of the makeup range in there at all. I didn't feel like being disappointed twice in one day so I almost didn't do my regular Barry M check. Thank the lawd I did – I checked both Superdrugs to no avail, then on my way to the train station nipped into Boots, clinging on to a little thread of hope.

My god, it actually felt like the crescendo of a beautiful song or the bit where a rollercoaster flings you into top speed after a excruciatingly slow ascent. The skies parted, a beam of light shone down on the Barry M stand and the angels chorused 'Hallelujah'… well, not really, but there were two bottles there and I grabbed them both with animalistic abandon.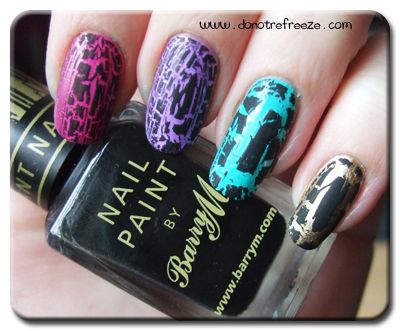 Barry M Instant Nail Effects over Illamasqua Obsession, Illamasqua Jo'Mina, Sleek Turquoise, China Glaze Passion
I already had a few polishes in mind that I really wanted to try it over, after weeks of poring over blog posts, so that's the first thing I did when I got home. I was actually squealing with delight as I watched it crackle before my little eyes!
The directions specifically say not to overlap when you apply your coat of this over your polish, and from the above photo I learned there is actually a knack to applying it. Not overlapping isn't just a suggestion, it's essential, and also the thickness of the layer you apply is important. You can see that on my index finger, I applied it a little too thin on the left hand side so the crackles are really tiny, whereas on the ring and pinky fingers I applied a little too heavily resulting in large, bulky crackles. The middle finger turned out best, I think. I removed my little test run and slapped on a full manicure with Obsession.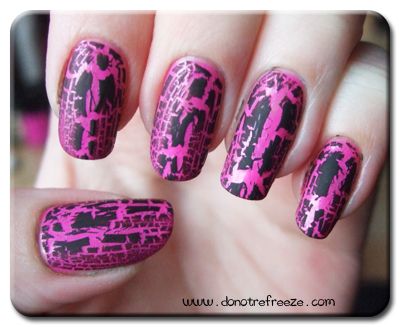 This is SOOO freaking cool. I'm not even going to apologise for posting about it when I know everyone else already has. It's THAT amazing. Once you get it, you'll understand. :3
P.S. Sorry for my recent absense on Twitter and boring blog posts, have been really ill :( I've actually lost my voice now! Am hoping to perk up soon, though, I hate to be a disappointment to you guys!