Gaahh! I SO rarely do FOTDs. The last time I did one was in July; I just went back and looked at it and my god, I really did put so much weight on this summer. I'm slowly but surely losing it now, though, which is good. Moving on…

I first saw swatches of Sleek MakeUP's new Bad Girl palette last weekend whilst staying at Colin's, and my first thought was 'what are you playing at, Sleek, you're trying to resell us the Graphite palette!'. I spoke to my sister that weekend who informed me that the palette was waiting at home for me, a lovely surprise from Sleek. I still wasn't enamoured with it, though. But the more posts I saw about it, the more it grew and grew on me… and now I don't see it as too similar to Graphite at all. The quality is a million times better (is it just me, or do the iDivine palettes improve every time one is released?) and the inclusion of some dark shades of other hues makes a welcome change from the simple monochrome of Graphite and provides opportunity for more creative looks. I also love that the colours are all named now. That's my two pence on the palette but I won't be swatching as there are dozens of other posts on it. :)
I haven't worn a dark eye in some time, preferring to stick to neutrals with defined liner or the occasional gold or peach tones throughout the summer, but I'm actually loving rocking dark eyes again. Roll on winter!
On my skin is my favourite Kryolan Ultra Fluid foundation in Alabaster, with a smidge of Illamasqua Satin Primer underneath. I have a little BeneFit Boi-ing concealer in 01 under my eyes and on a couple of blemishes, applied with my fingers to melt the product a bit and blended out with a fluffy brush. I contoured my cheeks and filled in my brows with Illamasqua powder blush in Rumour, and brushed a bit of NYX powder blush in Angel onto the apples of my cheeks. Cheekbones are gently highlighted with Eyeko Extra Glow Cream.
Kryolan Eyeshadow Base served as my eye primer (not suffering from melting problems now it's gotten cold in England!), and I dusted MUA eyeshadow shade 14 (a barely pigmented matte light pink) over the whole lid and browbone to act as a base for blending darker colours. I used a soft fluffy brush to blend Rebel from the Sleek MakeUP Bad Girl palette through my crease, then used a slightly stiffer blending brush with the same colour to add more colour and depth to the outer part of the crease. I used a pencil brush with the same colour on the lower lashline. A flat shader brush was used to pat Noir over the lid, just missing the inner corner. I added a touch of Underground to the very centre of the lid to add depth and lift the centre of the eye. I went back in with MUA 14 and blended out the top edge of Rebel, then used BeneFit Eye Bright on the inner corners to brighten them up, and set this with Gullible from the Bad Girl palette. I patted some of Noir along half of my lower waterline, but decided to leave the tightline and upper lashline clear of liner as the shadow was so dark. This felt strange for me since eyeliner is normally an absolute essential in my routine! Two coats of Revlon Grow Luscious mascara completed the eyes.
Since the eyes were more or less all matte, save for the inner corners, I plumped for a bit of shimmer on the lips. I applied Inglot Slim Gel lipstick in 52 with a lip brush, then added the light pink shimmer with MAC Pretty Please lipstick straight from the bullet.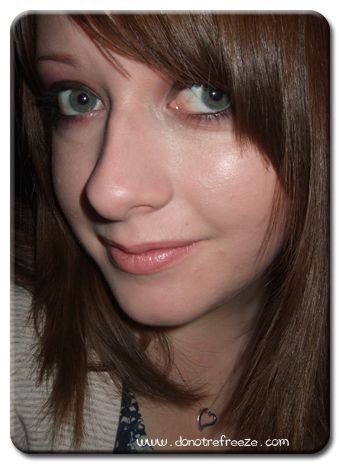 Wow, I sure know how to ramble. Regardless, hope you enjoyed the rare FOTD post and, if you saw my last one in July, have noticed that I've lost a couple of extra chins! ;P