So I didn't announce it in the title, but this is a giveaway. This means that only those who actually pay attention and read my posts will benefit! Hopefully this will ward off some of the Money Saving Expert tossers that keep ruining my fellow bloggers' giveaways. If you're reading this after finding a link on MSE, kindly piss off and stop ruining our fun. Your vulture culture is sucking the life out of our passion! Thanks.

It's only a little one – you might remember me saying a few weeks ago that I'd ordered a truckload of rhinestones from eBay and accidentally ordered the same wheel twice. Might not be of huge monetary value (so again, inevitable MSE reader, why are you here? It's not worth reselling) but rhinestones are just indispensable to me! They are so versatile in both nail art and more daring makeup looks. I love to adorn my face and nails with sparkling crystals to add the final touch to a look, and I'm sure you will too! Plus with this large range of colours, you have limitless looks at your disposal.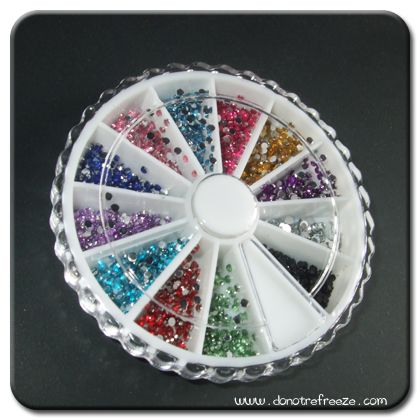 Rules

READ THEM! I've already had to delete several invalid entries.
:: Must be a follower. Sorry. I'd sort of prefer this to be for current followers only but it's too difficult to police a rule like that.


:: Open worldwide


:: Comment below with your email address and telling me a nail design you would like to see me try and create. Include a link if it's something you'd like me to recreate, or describe it as best you can if it's an idea in your head. Inspire me, girls!


:: Open for a week, until 24th September 2010, 11.59pm GMT.


:: Winner will be chosen by random.org and announced the following weekend.


Rhinestones are easy to apply to nails with clear polish, and to the skin with lash glue. Enter to give your looks a bit of extra sparkle and edge! Good luck :)