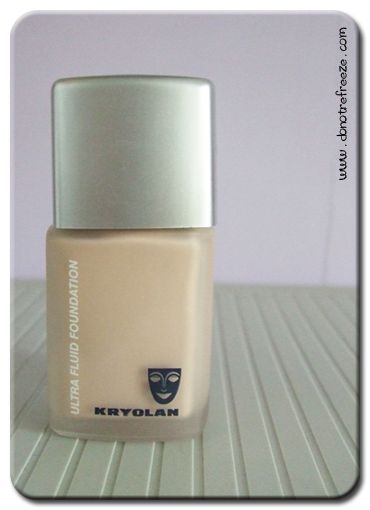 As mentioned in my Charles Fox post on Wednesday, I picked this up there for a bargainous £12.05. I'd wanted to try Kryolan's foundations for a while, and I'm not sure why but always assumed they'd be quite a bit more expensive. But at just 6p more than Revlon Colorstay, for the same amount of product, I wasn't afraid to try this one out on a whim.
The colour I got is Alabaster – told you I'm pale. The foundation comes in a sturdy square glass bottle with a screw top lid, and inside the lid lives a spatula like you normally get in testers and samples. Although I actually find this quite useful, as since it's just in a screw top bottle I'd rather have a plastic spatula than nothing at all and have to pour a bit out to use it (a la Colorstay). I actually dab the spatula over my face and buff the product in using an ELF Studio flat top powder brush.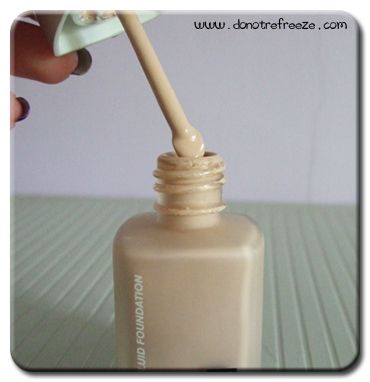 Coverage? Fantastic. I have nasty, temperamental oily teenage skin which is prone to hideous, red breakouts. Despite this, I hate the feel and often cakey look of full coverage foundations – in fact I don't usually ever wear foundation without mixing it with an equal amount of moisturiser. But Kryolan Ultra Fluid gives amazing coverage without looking or feeling at all mask-like. I don't have to mix this with moisturiser, and it doesn't even feel like I'm wearing anything.
To show you what I'm taking about, I'm going to have to show you a before picture of my bollock nekkid face whilst I'm suffering a particularly nasty pizza-face incident. Sorry! All in the name of science, take it like a man yada yada. (My camera's on the way out so sorry for lack of focus, although a perfectly sharp image would be much more traumatising)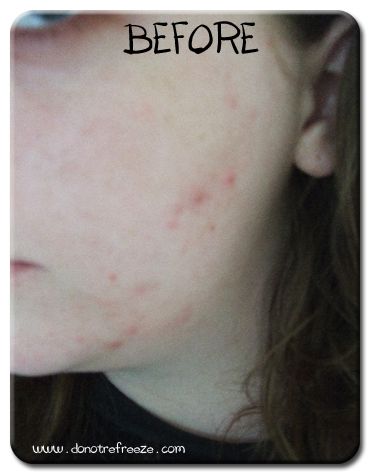 Pretty scary, right? A thin layer of Kryolan Ultra Fluid later, and I've even negated the need for concealer (which is great, because I've never found a concealer that doesn't enhance my spots rather than hide them).
Coming from a theatrical brand that is often used in film and TV under scrutiny of cameras, you'd expect this to deliver opaque coverage without looking like you're wearing a mask. And it delivers! It doesn't remain tacky like some foundations do, it's fine within a minute or so. Even when dry, it affords a dewy finish to the skin, which I like but since I'm oily I have no choice but to set with a powder (I've been using Ben Nye's Neutral Set). It's great for my oily skin, and I know it would be great for combination/normal skin too. I have no reason to suspect it wouldn't be any good for dry skins, either, as it doesn't feel tight or drying. The foundation lasts absolutely all day, but is easy to remove of an evening. In short, I may well have found my new HG, or at least a definite repurchase.
Pros
:: Full coverage without looking or feeling heavy
:: Reasonably priced
:: Smooth, easy application with fingers or a brush
:: Gives a dewy finish alone, but looks great set with a powder too
:: Super long lasting, no transfer
:: Huge range of shades for all skins
Cons
:: None, so far as I can see!
Basically, if you have access to this product, you should definitely give it a shot. There are plenty of places that stock Kryolan online but shipping can often get expensive.