Barry M really didn't make much of a big deal out of these, did they? They were mentioned on their blog, but no whisper of them on the Barry M mailing list, no special Superdrug promotions when they first came out, nada! I don't even KNOW when they came out. Haha.
Despite having a complete cult status for their classic Dazzle Dusts, Barry M decided to venture into pressed shadows and the result is 8 different trios in a variety of colours, for £5.95 each (available from Boots, Superdrug, and the Barry M website). Most of the colours in the trios aren't really my sort of thing – I was naturally tempted by Golden Goddess, a trio of neutral browns but I thought I might as well go for something different so I also skipped over Smoky Seduction, which was made up of two silvers and a black. In the end I plumped for Delicious Diva, with a very light pink, a briiight pink, and a reddy brown.
First complaint – packaging. It's so tacky and cheap looking! A flimsy clear plastic lid like on their blushes, eww. Surely it can't cost them too much to make the lid black plastic as well? That would make it look slightly less cheap, right? And secondly, not really a complaint because all the drugstore brands do it, but we don't want the crappy little sponge/brush. Put the money spent on that towards better packaging, please!
Swatches? Of course. These are all just one swipe with my finger onto my bare hand, no primer or anything.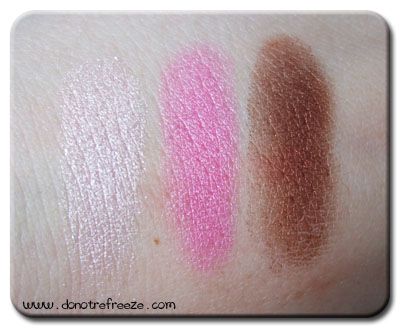 I'll admit I was pretty terrified of the pink. I actually really like wearing pink toned colours on my eyes but this was a little TOO pink. Luckily it comes out a little softer when applied to the lid with a brush than it does swatched with a finger! In fact, I was surprised (and maybe a little disappointed) to find that they aren't as highly pigmented as the swatches would have you believe. They applied nice and smoothly, but needed a fair bit of building up because the colour starts to disappear as you try and blend them together. Fallout was also a bit of an issue, I think I actually got more shimmery flecks on my face with this than I ever do with Dazzle Dusts! Nevertheless, here's a quick EOTD.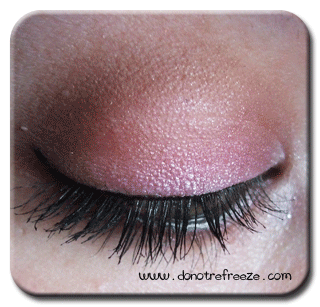 Sadly, their lasting power wasn't great either. The colours faded slowly but surely throughout the day, despite being worn over UDPP.
Overall thoughts? I really wanted to love this, but I had my issues with it! If you ask me, Barry M should stick to loose shadows. I can't imagine there'd be much noticeable difference in performance between the different trios so I don't think I'll be buying another one.
How about you? Have you tried any of the trios? Do you want to?
Edit: Reader CinereaBellFlower said she bought the Golden Goddess trio and loves it, apparently it has good staying power even without a primer. Perhaps the quality does differ between the trios? Or perhaps these just don't work well for everyone!