Summer has well and truly cleared off… so it's time to break out the dusky, muted colours and the jewelled metallics. Back when Models Own had a 50% off sale in August I picked up a handful of polishes, one of which was Purple Grey as I'd heard so many good things about it. When put it on in the evening, I really didn't like it. It was boring, and it wasn't purple! But when I saw it in daylight the following morning, I warmed to it much more.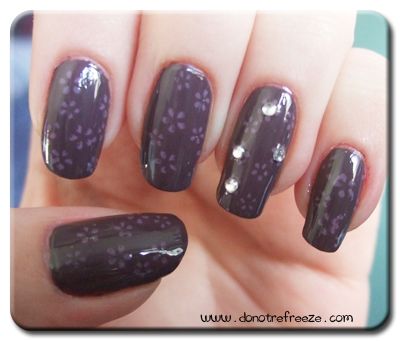 I decided it did need a bit of stamping to jazz it up though. I used Illamasqua's Velocity and BundleMonster plate BM10. I tried to stamp each nail at a different angle so the flowers didn't look uniform across all the nails. You can see I messed up that little finger a bit, but never mind! It was still a little bit plain for me, so out came the rhinestones. I centered 4 of the slightly bigger flowers on each ring finger with silver ones – in the pictures it doesn't look great but it sparkles much more in person. In hindsight, it wasn't the best idea I've ever had but oh well!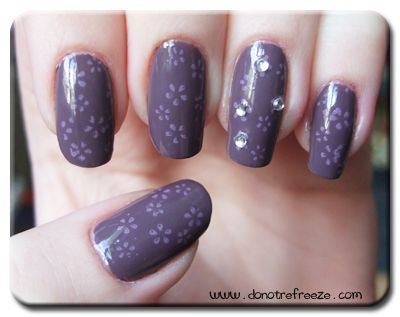 What do you think? Do you own Purple Grey?