You all know how much of a crazy Illamasqua fangirl I am, so when an invite to their preview event for the flagship store on Beak Street and the new Art of Darkness collection landed in my inbox, I definitely let out a delighted little squeal. I feel so privileged to be one of the first girlies to step foot through the doors of the Illamasqua School of Makeup Art, which opens tomorrow for trading (Monday 13th September) and courses begin in mid October. YAY!

The store is easy to find, can't miss it – it's right at the bottom of Carnaby Street, literally 3 minutes walk from Oxford Circus station. And I tell you what, it's everything you could want in a store! Every little detail has been so well thought out, they've not missed a trick. Even the floor is glittery and holographic! The whole place is a beautiful, sleek mirrored affair with no shortage of inspiration just from a glance around the shop.

A few random store pics!
On arrival, we were offered some incredible looking smoking cocktail (I can't tell you how good that was as I was dosed up to my eyeballs on codeine!) and shortly afterwards were shown a short film which perfectly embodied the new Art of Darkness collection. The visuals for this collection are absolutely stunning, breathtaking, just wow. Body Electrics, eat your heart out! Unfathomable amounts of effort have clearly been put into this collection, with Alex Box creating 13 different characters showcasing many villainous types. The story is set at a forest banquet, where the mesmerising characters try to brew the Elixir of Life. Although their endeavours fail, they come up with a whole host of jewel like substances, and the Art of Darkness is born.
I am planning a whole other post just for the visuals and story behind the collection, so be on the lookout for that in the coming week else this post is going to get way too long. In keeping with the ethereal forest banquet theme, the store had been decked out in leaves, fruit and tempting dark chocolate. See, Illamasqua don't miss a trick! They recognise and appreciate bloggers as standard, not as an afterthought to their advertising like many brands do. Alex encouraged us to 'stick our fingers in every pie' and have a really good play with the new products, so we wasted no time!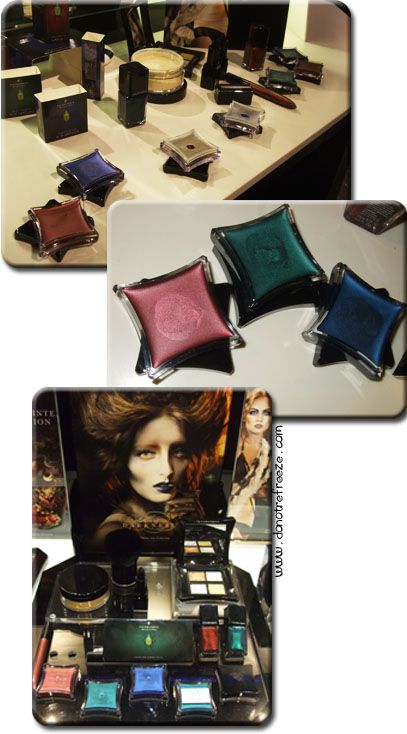 The collection features two new pigments, two nail polishes, THREE new liquid metals, a new powdered metal, two pairs of false lashes, a lipstick, an intense lipgloss, and of course the much talked about Precision Inks. Phew! These will be outlined further down, but for now here are swatches of the pigments, lip products and liquid metals. Plus nail polishes modelled by Milly!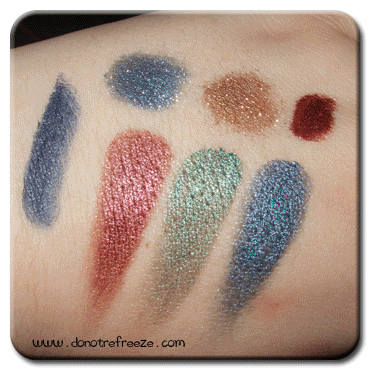 The first thing I noticed when I swatched the new liquid metals was that they felt a lot thicker than the ones I already own, and also felt like they dried to a slightly powdery finish rather than staying wet and creamy like the old ones. An informative chat with one of the Illamasqua team informed me that the formula has been reworked, which will come as great news to my fellow liquid metal fans! Naturally, being a cream product, a bit of creasing is inevitable with these but the new ones should crease much less, partcularly if set with a pigment.
We all got pretty absorbed in watching Alex work her magic on a gorgeous girlie. Here's a before, during and after pic for you to feast your eyes on!
I have to admit I was quite intimidated by the thought of meeting Alex Box. I missed out on her talk at IMATS back in January so I wasn't prepared for her gentle accent and completely down to earth nature. After she completed the look above, I even had a chat with her about the merits of cake eyeliner versus precision inks!
The Art of Darkness collection
Nail Varnish £13: Scarab (deep metallic red) and Viridian (deep metallic green)
Pure Pigment £15: Ore (golden bronze) and Alluvium (golden lilac blue)
Powdered Metal £22: Ether (pale gold)
Liquid Metal £17: Stoic (gleaming emerald), Superior (deep lapis lazuli) and Resolute (rich russet)*
Precision Ink £16.50: Alchemy (spun gold) and Abyss (pure black)
Intense Lipgloss £12.50: Hermetic (deep pearl red)
Lipstick £15: Disciple (matte navy blue)
False Eye Lashes £12: No. 26 and No. 27
*These will be available separately, or in a 4 colour palette along with cult classic Solstice for £29.50
The thing I wanted most from the collection was Resolute liquid metal, so imagine my delight when I found it in my goodie bag upon leaving! I intend to go back for Ore pigment, both the nail polishes and maybe the precision inks. All in all, an absolutely stunning collection and I can't wait to properly share the visuals with you! The Art of Darkness is coming soon (but the precision inks are already available to buy online).
I had an absolutely amazing time and am thrilled with the new store and products, thank you so much to Illamasqua for having me. On a parting note, here's a little picture of me and some other beautiful bloggers!