Long time readers might remember me posting about my Inglot Freedom palette back in February. Over the weekend, I gained myself even more freedom with it! I'm sure most of you will be aware that you can remove the inserts from MAC pro palettes to fit more shadows in, and I discovered you can do the exact same with this particular Inglot palette (I'm not sure if you'd be able to with the other palette designs).

So I had a tiny depotting session with some shadows that weren't already in pan form and collected together my most used shadows. Yay for convenience!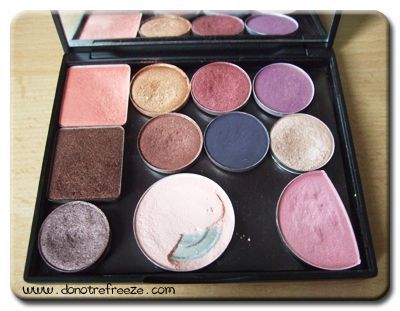 In case you're interested, here's what they are from left to right, top to bottom:
Inglot 407, MAC Amber Lights, Cranberry and Trax
Inglot 421, MAC Antiqued, Graphology and Grand Entrance
MAC Satin Taupe, MUA 14 (I broke that one depotting… never mind!) and No7 Antique Rose
I've fallen in love with having everything in one place! There's a couple of Urban Decay ones that I love (particularly Last Call) which I would love to have in the palette but I don't want to destroy the packaging! I'm now thinking about getting a large Z palette or Unii palette to condense a lot of my collection, and chopping and changing what's in this Inglot one to travel with. This one is perfect for travelling as it's not much bigger than a MAC 4 pan palette (see below) and fits perfectly in my makeup bag. Not to mention the massive mirror in the lid!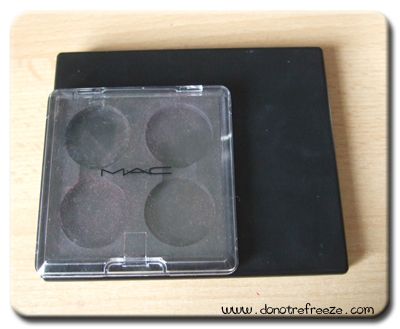 Do you love to depot and store things together, or do you prefer having everything in separate pots? Have you tried the Unii or Z palettes? Let me know!