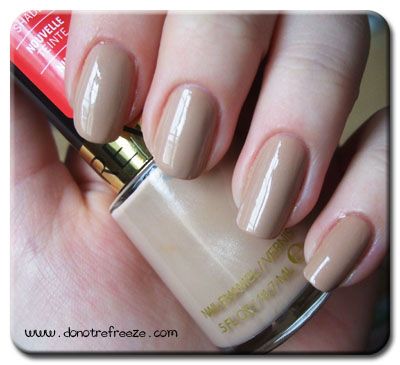 Just a quick overview of one of Revlon's polishes, Gray Grey Suede (sorry, can't bear to spell the American way! Haha). Apparently, this one was worn by Florence Welch as she collected her Brit Award earlier this year!
I'll be honest with you – the Revlon polishes I've tried before were pants. Minted and Lilac Pastelle were watery, sheer, bubbly and streaky; frankly a total pain in the arse to apply. Well, maybe that's just me as most people seem to have always has good experiences with them but nail polish is not Revlon's forte, I don't think. I was pleasantly surprised by this one though, full opaque coverage in 2 coats and no nasty streaking or bubbling problems.
Grey Suede is a total misnomer, though. It's not grey at all! Much like Lilac Pastelle wasn't lilac. It looks a lot different to the promo image I saw – it looks like an ivory coloured, creme finish but I actually much prefer how it really is. The picture doesn't show it too well, but it's got a really subtle shimmer running through it to keep it from being boring. You can just about see the shimmer in the bottle.
Overall, a suits-all shade that's appropriate for the office or anywhere you need to keep your nails subdued, and much better than their recent Spring offerings were. I much prefer the formula of other nail polishes, but Revlon will always have a special place in my heart for foundations and lippies.