Revlon have quite a nice selection of falsies in their Fantasy Lengths range – none of them are too drag-queen, all quite light and fluttery. I'd tried a few pairs before, and was recently sent a few more to try including the number 99501s which are self adhesive.
I was quite excited by the prospect of lashes with a self-adhesive band as I'm not the most proficient lash-applier and often fail to put enough glue on the ends of the lashes and end up having to start again. These lashes also come with a weird little plastic 'eyelash applicator' (seen in the picture-in-picture above), which I must say seems a bit of a waste. It's meant for pressing the lash band down after application, but most of us know to just use a makeup brush or something for that, right?
Anyway, about the self-adhesive band – I don't like it. For a start, it's quite chunky especially in comparison to the delicate look and feel of the lashes themselves. A thick band on them seems very out of place and looks obvious on the eye (see picture at end of post). Look at how thick it is!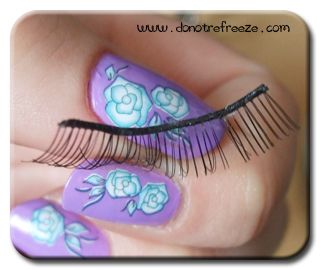 I could see past this if the lashes performed well, but for me, they didn't. Granted, they were plenty sticky enough and stayed put, but let's think about it logically for a second: USing glue might be a little more effort, but it dries. Whatever the adhesive is on the lash band, it doesn't dry. Consequently, my bloody fringe kept getting stuck in them all day! Very annoying. I decided enough was enough and I would have to remove the self-adhesive band if I was to continue wearing the lashes. Luckily, a bit of gentle coaxing and you can pull them right off. And you are left with something much nicer!
The next day I wore the lashes again, sans-band. Much, much better! I used Revlon's Precious Lash Adhesive, which made applying the glue a piece of cake. Please ask if you'd like a separate post on that product!
Check out the two pictures below. In the first one, I am wearing the lash with the adhesive band. I'm not sure if it's just me, but I think the band looks chunky and obvious even when applied over intense black eyeliner. I could also obviously feel it there – I'm sure I'm not alone in preferring lashes that feel as though they aren't even there. In the second picture, I'm wearing the lash with the band removed. So much more flexible, comfortable and no fringe troubles!
Overall, I really like the style of these lashes but did NOT like the self-adhesive aspect. At least the band is quite easily removable! Have you ever tried self adhesive lashes? What did you think?
Revlon Fantasy Lengths Lashes are available in most larger Boots stores and vary in price between about £4 – £7.