For those of you who aren't familiar with the term, fauxnad is a name given to knock-off Konad plates. I must be among only very few polish bloggers who didn't already own the super-value set offered by BundleMonster – until now!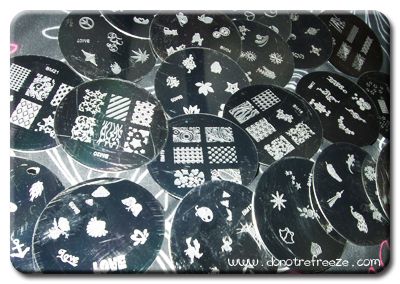 You get 21 plates for $17.99. Shipping to the UK costs $4, so in total that's $22. At the current exchange rate that's about £14 – bargain! When you consider the RRP for real Konad plates is about $7, you certainly can't complain about the value of the BM set. But is their quality up to scratch? Check these pics, with Konad plate M78 on the left, and BundleMonster plate BM21 on the right.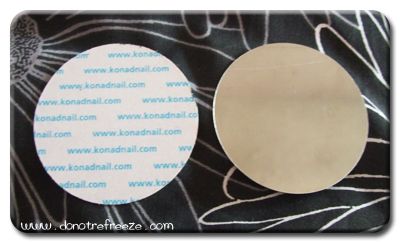 You can see that while the plates are the same diameter, there are some obvious differences. The BM plates don't have a paper backing, but they do all have a layer of film on top which needs to be removed before use. This brings me onto my next point – these buggers are SHARP! I managed to slice my fingertips a few times when I sat down to remove the film from the BM plates – ouch! The edges of the Konad plates are perfectly smooth, but you can even see a little bit in the picture that the edge of the BM plate is rough and sharp-looking.
Also, with the full-nail images, you'll notice that the BM plates can house six of these while the Konad plates have only four. Although you could argue that it's a good thing because you have even more designs for your dollars, it comes at a price. The full-nail BM designs are a good couple of millimetres shorter and narrower than the Konad ones. Unless you have short and very narrow nails, you're likely to have to get creative with double stamping. I also noticed the french tip designs are smaller than Konad's too, but they should still be large enough for most nails.
Lastly, I must say that I find the images just don't stamp as cleanly and neatly as the real Konad. I'm not sure if this means that they're etched too deeply or too shallow, but they're just definitely not as perfect. Here's my first mani using BundleMonster – Illamasqua's Obsess, and the design is from plate BM20 stamped with China Glaze's Something Sweet.
To sum it up…
Pros
:: Great deal, lots of plates for little money
:: Tons of designs to choose from, something for everyone
:: Arguably quite a few more interesting designs than Konad
Cons
:: SHARP edges – take care!
:: Full nail and french tip images are too small for most nails
:: Designs don't stamp so crisply
:: Set does not come with stamper and scraper – you will need to buy these seperately from eBay or elsewhere if you do not already have any.
Overall, a great addition to a plate collection for hardcore stampers but not something I would recommend as a first kit to a beginner. I think you need to be well versed in all the ins and outs of Konad stamping before you try to get to grips with cheaper, lower quality versions.
Don't forget you can check out my Konad Q&A here and my Konad picture tutorial here.