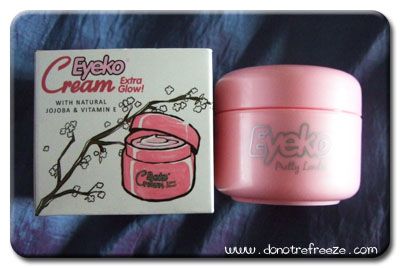 I'd never tried any of Eyeko's famous creams before, just because the original one never really appealed to me and I knew the tinted one on me would make Jordan look like a natural beauty. I was pretty excited, though, when the postie deposited Eyeko's new LE Extra Glow cream in my hot little hands.
I love that it has SILVER shimmer in it! Wonderful for milky girls like me, although I'm sure with the right application this could add something really special to darker skins. I also think it's a really nice touch that the box is shimmery too (not that you can see it in the photo above). Like most people, I wouldn't be inclined to use this as an eye cream or neat moisturiser, but if you're a highlighter junkie you NEED this!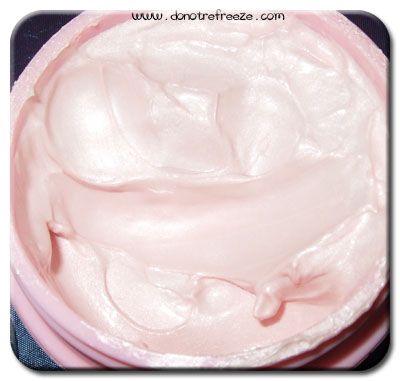 It looks luscious in the pot. If you're wondering why there's a chunk outta the middle, I transferred some to a little 5g jar so I can glow on the go! It's an absolute dream to apply, it blends into the skin so nicely. The generous 28g pot will last FOREVER so you're getting a lot for the £8 this will set you back. I've used this every single day since I got it, playing around with highlighting different parts of the face. It looks beautiful atop the cheekbones, on the browbone, bridge of the nose, cupids bow, a smidgen on the inner corners of the eye, and I've even tried a touch on my collarbone. Gorgeous!
You would think that applying this all over the face would give you total discoball effect, and applying neat it certainly would do. But I bit the bullet a few days ago and mixed just a touch with my foundation (I always mix my foundation with a touch of moisturiser anyway). I was fully expecting to look really sparkly and have to take it all off, but it looked really good! I hate to use such a clichéd phrase but it was definitely a 'lit from within' glow. Love it love it love it.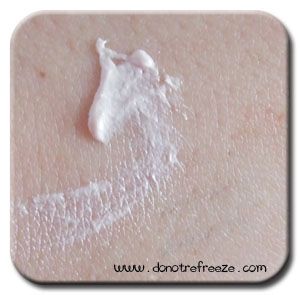 Please note the above photos show the product liberally applied for illustration purposes! The amount I have applied on there is about the amount that I mix into my foundation for my whole face. No pictures of it in action on my face at the moment I'm afraid, as I'm suffering a nasty breakout… not sure what's caused it to be honest but I know it's not this as it started before I got this product! But rest assured I'm enjoying using this Extra Glow cream so much that it'll more than likely be featured in my next FOTD when my face clears up a bit.
As mentioned, this is a Limited Edition product and you can order it here. If you spend over £10, enter the code 101 at the checkout for a free gift :) I'm not sure if this works in conjunction with ambassador codes, but there's no harm in giving it a go!