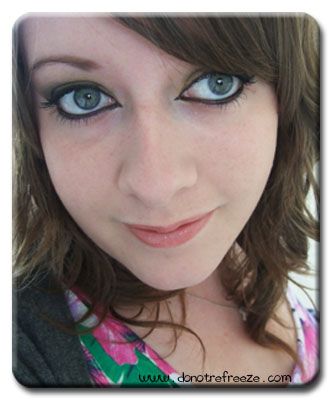 I've come to the conclusion that I already REALLY like cake eyeliner. This morning I had a little play and painted my eyeliner on in a shape I wouldn't normally wear. I actually quite like it, it makes my eyes look quite a bit more almond shaped. It's basically a toned down version of a lot of the Arabic inspired eyeliner looks you see. I messed up the inner corners a bit but not too bad for a first go I reckon.
The angle I used to show the liner best made it look like I have NO eyelashes… haha never mind.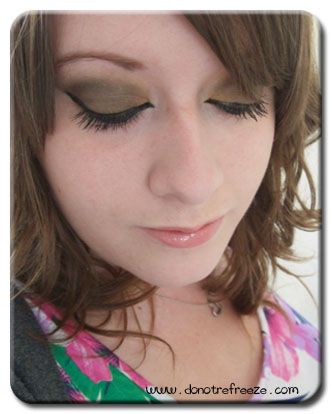 Face and Lips
ELF Mineral primer
A touch of Revlon Colorstay mixed with moisturiser
The Body Shop bronzer in Warm Glow
Illamasqua cream blush in Rude
ELF HD Powder (T Zone)
Revlon Colorburst lipstick in Blush
Revlon Super Lustrous lipgloss in Peach Petal
Eyes
UDPP
Kryolan Santiago palette (gold, green, brown)
Sleek Storm palette (dark green and brown)
The She Space First Class Con
Illamasqua powder blush in Rumour (eyebrows)
Illamasqua eyeliner cake in Mislead
Bourjois black kohl
17 Wild Curls mascara
I wanted to keep the lips pretty neutral as the eyes are so much more than I'm used to. Maybe I'll get creative with my liner more often now!