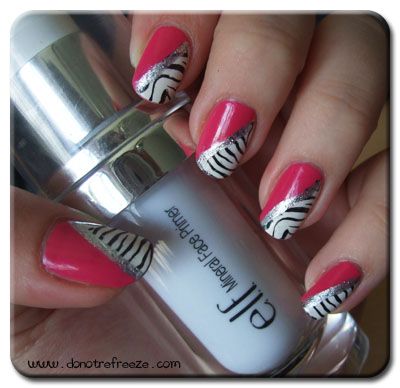 Spot last week's
zebra and pink
nail art!
I've only ever tried a few bits and pieces from E.L.F. as to be quite honest, most of the range has ever really excited or appealed to me. The things I have tried, however, I absolutely LOVE and use on a mostly daily basis – their flat top powder brush, their HD powder, and their eyelash curlers are pretty fab too since they only cost pennies. For that reason I was very pleased to be able to try out their Mineral Infused Primer. I've never actually used a face primer before (aside from one time with L'Oreal Studio Secrets' one, but I HATED that and passed it quickly onto Kim!), so it was a new thing for me really.
I love what this product does for my face makeup – it glides on more smoothly, it stays put for longer etc etc. Essentially everything a primer should do, so that's great. But after just a couple of weeks of use, the pump stopped giving me any product! It just made a tired little 'pfffft' noise and splattered a few drops on the back of my hand. I was incensed at the prospect that it had ran out that quickly, so I screwed the top off to discover THIS fuckery!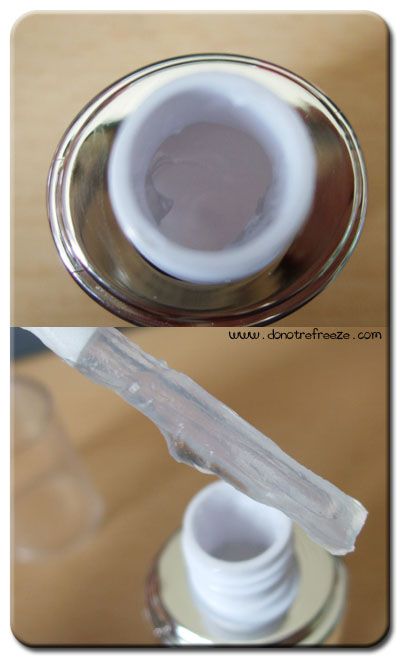 You might not be able to see too well in the top picture, but there is TONS of product left in there. Months and months worth – but there's no way the pump can pick it up from the sides of the bottle because the pump is made of hard plastic, not the bendy tube kind. It's a massive inconvenience to have to unscrew the top and poke the end of the pump around in there to get some product out each morning. What the hell were you thinking, E.L.F.? Massive shame because the product is good!
I haven't seen packaging fuckery of this magnitude since UDPP. Speaking of which, did you know they've given into to consumer demand and are going to change the packaging to a squeeze tube? Rejoice! Check out Vex in the City for a little more info. Now let's hope E.L.F. follow suit!