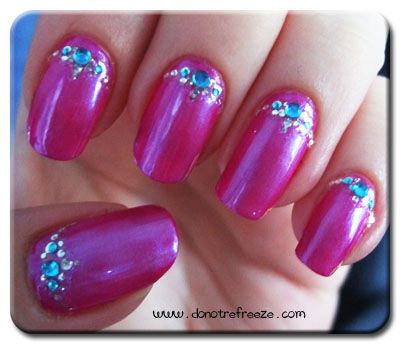 PHWOOARRR. I am totally in love with these. After fiddling about doing complex designs for the last week, I'm relishing wearing something so beautiful but so simple! They actually look a lot more purple in real life and less pink, but my camera wouldn't play nice and we all know how notoriously petulant and stroppy purples can be – they simply refuse to be photographed accurately! I considered trying to edit it to show a more accurate colour but I wouldn't know how to do that without messing up the colour of my skin, and besides, I don't like to edit the colour or contrast or anything of my photos.
The base colour is Zoya Charisma, which is actually a matte finish. It's the first matte nail polish I've owned, previously preferring to opt for a matte topcoat worn over regular polish if I fancy a flat finish. And that is the route I will be staying on – Charisma was an unforgiving little sod to apply and refused to look nice alone. So, on went Illamasqua Prism. Yum yum! Prism could probably make dog crap look pretty if you poured a bottled over it – it's just so beautiful when the light catches it!
The gorgeous little rhinestone stickers are from Nailene, part of the 'Earth Angel' Bedazzled nail art set. I'm not going to give a definitive opinion yet as these are the only ones I've used so far but I had a much easier time applying these and keeping them on than I did with Viva la Nails rhinestone stickers. I think this is because the actual sticker part on the Nailene ones is much thinner and so doesn't fight and refuse to stick to the curve of my nails. This is all sealed with a layer of Sally Hansen Teflon Tuff topcoat!
Now I'll shut up and let you scroll back up and look at the pretty picture some more. :3
(I'm away until Monday evening so sorry in advance for late replies – have a lovely weekend girlies! X)