I know you must get sick of me being a silly fangirl but basically I think Illamasqua is the stuff of legends. I will further demonstrate this to you with another knockout polish, very aptly named Muse.

In Greek Mythology, muses are the goddesses or spirits that inspire creativity in arts or literature for example. Some of the more well known muses are Thalia (the muse of comedy), Clio (history) and Euterpe (music) – Illamasqua should be the muse of nail polish formulation. Srsly.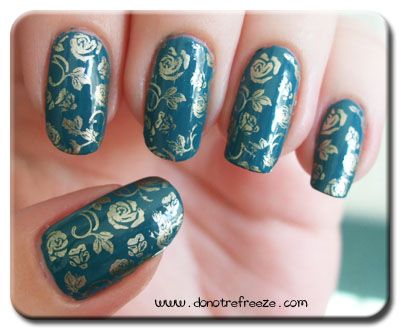 Muse isn't the sort of colour I'd normally go for but I'm SO glad I did. It's very different to everything I own, and the formula is the best I've ever had the pleasure of using. I'm still a big fan of China Glaze's formula but this is just awesome. Please note I've never used Chanel polishes or anything like that so I couldn't compare, but these are more than good enough for me. It glides on perfectly and if I was paying enough attention it would have been a one-coater but I always prefer two just to make sure. It dries quickly to a high gloss finish.
Stupidly, I forgot to take a photo on it's own but you still get a good idea of the colour. I fancied stamping some gold onto it so I used China Glaze Passion and Konad plate M65. This mani really reminds me of something, but I can't think what it is… Hmm.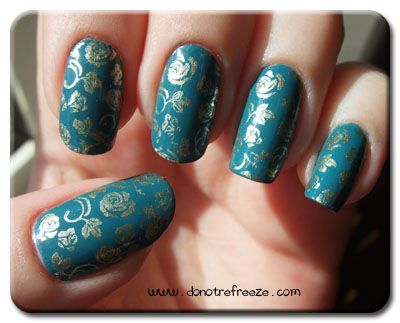 I tell you what… Illamasqua nail polishes want to have a bloody good formula for £13. Haha