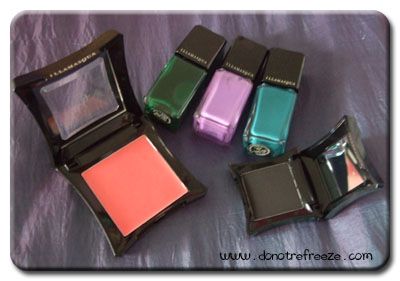 Just a quick post to remind you that the Illamasqua Product Amnesty ends on Saturday the 31st of July so you've only got a few days left to grab yourself a fantastic 25% discount!
I got myself to Selfridges on Friday and traded a couple of too yellowy foundations, a dried out eyeliner pen, some old GOSH eyeshadow that I hit pan on in like 2007 (haha) and a dried out Sleek gel liner for these lovely goodies! I got the cream blush in Rude, eyeliner cake in Mislead and polishes in Rampage, Jo'Mina and Muse. Sorry about the crappy picture, but it's actually reasonably colour accurate except Jo'Mina is a bit brighter.
Speaking of Jo'Mina, I haven't even tried it out yet but I think I might be regretting buying it… I have so many lilacs it seems silly to have bought another one. I'll have to compare it to some of my others and see what happens.
Have you taken advantage of the Amnesty? What did you get?