So yesterday I was wondering what to do with my nails, and decided on a brightly coloured gradient design. If you missed my second Easy Peasy nail design tutorial, I show how I achieve a sponged gradient effect using sponge eyeshadow applicators. Be sure to check it out if you want to try it :)
I started with just one coat of Sleek Makeup's Turquoise (it's super opaque), then sponged down Lilac, also by Sleek Makeup, and lastly Sugar High by China Glaze. I used an eBay nail art pen to add the stripes from the corner of all the nails bar the ring fingers, which are stamped a couple of times with butterflies from Konad plate M78. I finished with China Glaze Wireless Holographic topcoat – anything a bit glittery or holographic helps the gradient look much smoother.
I quite like this actually, I might be throwing a few more gradient manis at you before the summer is out!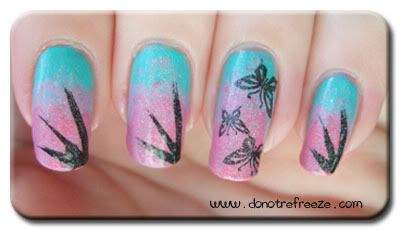 Oh and I must apologise for my cuticles being completely GROSS. I just haven't been bothered to push them back or oil them in like 2 weeks or something – I regretted it after finding out how hard it is to clean up when you've let your cuticles grow out of control! Rest assured I will be annihilating those buggers before my next mani.