Today (well, technically yesterday as it's 1.30am now as I begin writing this post) I attended The Body Shop bloggers event. I had a wonderful day and will be writing a separate post with fun photos and sneak peeks of the products before I review them, but I felt it was important to do this post first.

I'd heard of the organisation ECPAT before but wasn't completely aware of the work they did. They work in partnerships with many organisations including The Body Shop – a percentage of all profits taken from TBS Soft Hands Kind Heart hand cream is donated to ECPAT. So what do they do? They're working towards exactly what it says in the title of this post. I think this is such an important issue, I really love children but even people who don't like children will agree that no child is deserving of some of the abuse they are subjected to, particularly child trafficking for sexual or labour purposes. I can't even begin to comprehend how sick some people are.

At the event, we learned a little more about what ECPAT do but I'm not gonna type it all here, I just strongly encourage you to have a look through the website so this post doesn't turn into an essay.

When you make a purchase at The Body Shop, you should be provided with a yellow ECPAT leaflet which includes a petition for the UK government to offer greater care and protection to victims of trafficking that you can sign. You don't need to post it, just give it back to TBS and they'll take care of the rest – ECPAT are aiming for a million signatures on this petition so every last person who signs is making a difference. It'll only take you a second to scribble your signature. If you don't live near a TBS store, you can sign the petition online HERE.

On the back of the leaflets there's a space for you to trace around your hand as a symbol that you're putting your hand up against child trafficking. TBS are collecting these to make display walls of the hands of their customers who have signed the petition. At the event today, we were provided with pens and glitter to do our own hands and stick them up alongside those of celebrities who've signed. Here's the hands of Zoe, Louise and me!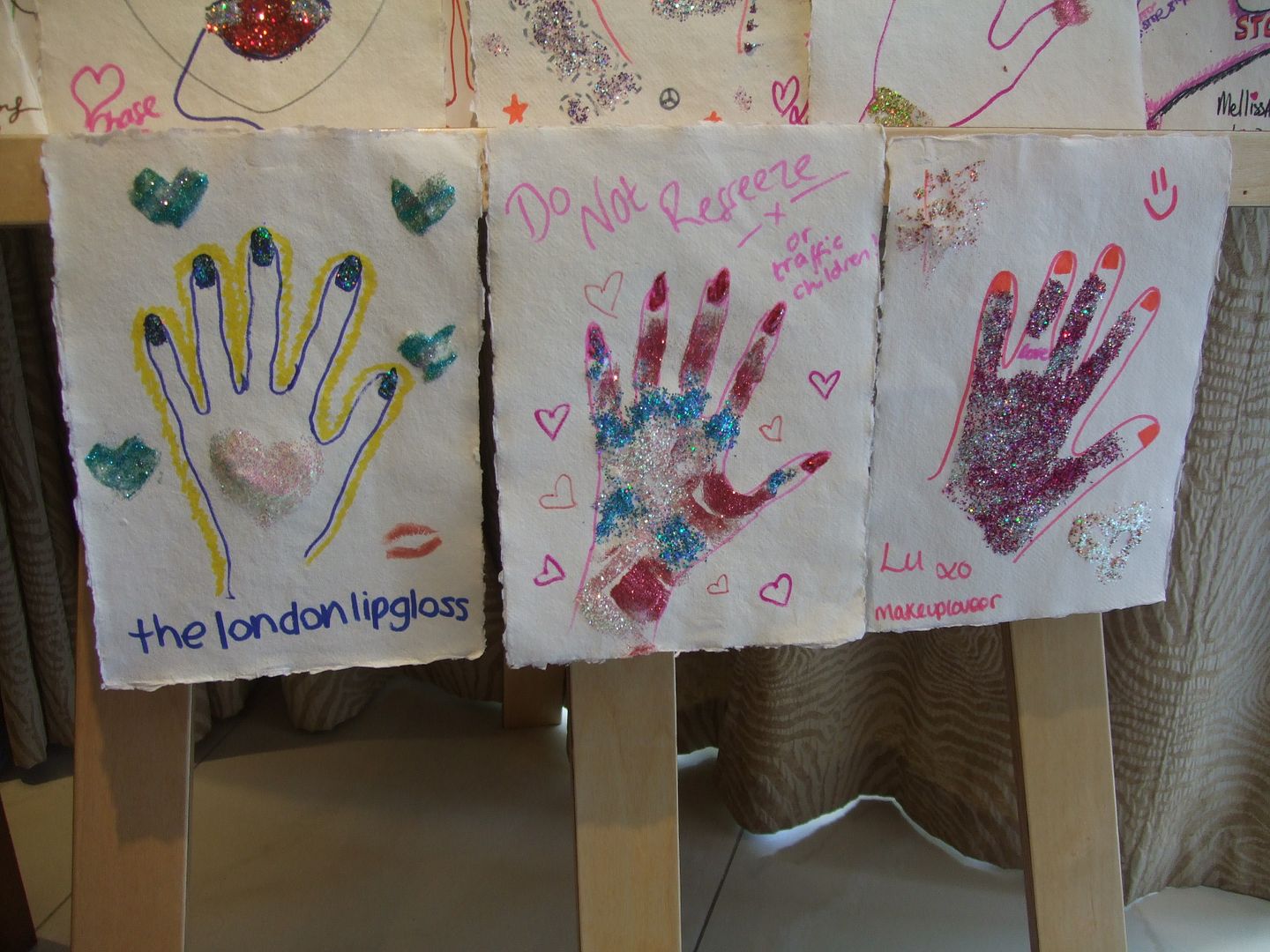 (Will update this pic with a nicely cropped one soon, forgot to do this one when I was on Colin's computer and no Photoshop on this laptop!)
Edit: I've been informed that the petition goes live on the 15th of July. Thank you so much to anyone who's read this and I'll post again on the 15th to remind you.