This was the first thing I did with my Viva la Nails stuff… it's just Maybelline Sweetie Pie (US only), with teardrop shaped red rhinestones and a dot of China Glaze Passion in the middle. This was cute but I got bored of it really quickly, I actually took this off and replaced it with the sponged zebra mani from earlier in the week :)
And on Wednesday, I painted my sister's nails as a reward for not biting them in a few weeks! Unfortunately though, the skin around her fingers still gets bitten and is beyond my repairing skills :( this is Sleek Lilac as the base, flower petals made with China Glaze Light as Air and a slanted nail art brush, and purple rhinestones from Viva la Nails.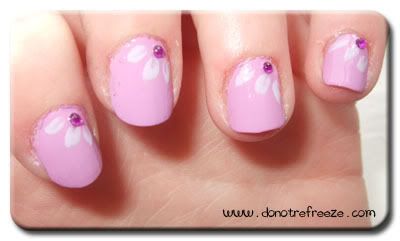 And lastly, my current ones – I don't really like them at all but couldn't be bothered to redo them last night, so I'll probably take polish to Colin's with me later on and do them again over the weekend. Base colour isMaybelline Goody Plum Drop, and you know the drill for creating the flowers with a dotting tool (see this post to refresh your memory), these are done again with China Glaze Light as Air, aaand the same Viva la Nails purple rhinestones.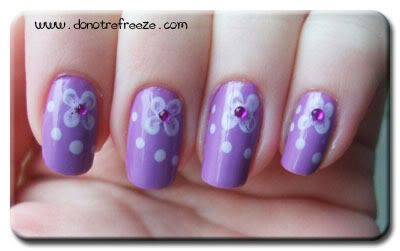 Sorry for a terribly boring post! What's on your nails at the moment?