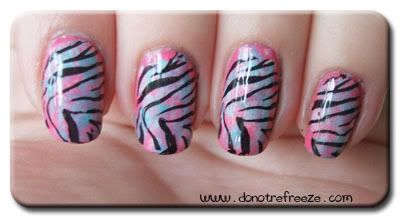 I appear to have started a bit of a trend with my gradient nail designs – I was so excited when both Sian and Milly tried their hand at it! So, yesterday, I felt like playing with the good ol' sponge applicators in a different way, rather than creating the gradient up the nail.
When I posted a preview of this on Twitter, Lydia asked if I could do a tutorial for these nails. The best I can do right now is a mini tutorial because the only picture I took apart from the final result was at the halfway point, but I'm sure you can get the idea!
I started off with two coats of China Glaze Sugar High. Then, similarly to how I describe in my other gradient nail art tutorial, I sponged on Turquoise by Sleek. Rather than sponging down the nail from the tip, though, I just dabbed randomly over the nail, being sure to let some pink still show through. Then I repeated this with a white polish by Vital. This is what it looked like at the halfway point!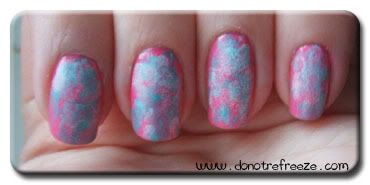 Like the sponged gradient designs, I think this looks pretty cool on it's own but you know me, I had to put something over it. Cue Konad! I'm sure you know by now that the zebra print comes from plate M57, and the polish I used was Color Club Dark Romance. Add topcoat, et voila! I think this random sponged effect makes a really cool backdrop for foreground designs :)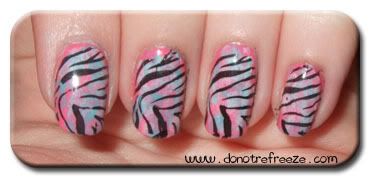 Really hope you enjoyed! :D