I've only ever tried a few Revlon products before. Colorstay is one of my favourite foundations ever, and PhotoReady has actually really grown on me; but the only other Revlon product I'd tried before these was the matte lipstick in Nude Attitude which we all know was HORRIBLE! It was drying, nasty and a weird orangey colour that didn't really look nude on any skintone.

I was pleasantly surprised when the postman handed me these a few days ago – 5 of Revlon's new Colorburst lipsticks. For a start, I really like the quilted style packaging!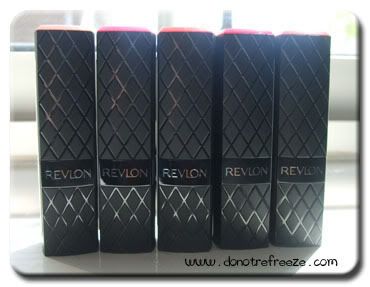 Apparently, these lipsticks boast 'Elasticolor technology', which in our terms means the product 'hugs lips with an explosion of colour that feels virtually weightless'. The formula also includes moisturisers and anti-oxidants, like sweet almond oil, which are known to improve lip texture. This is a welcome addition for me as my lips get dry and flaky all the time no matter how much I exfoliate them. The colours I received are…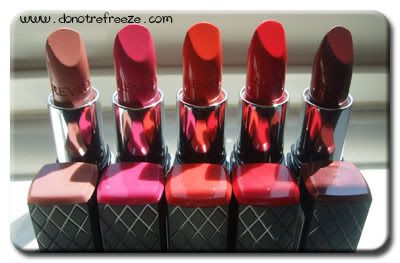 L-R: Blush, Fuchsia, Coral, True Red and Plum. I love how Revlon is pressed into the bullet :D not that you can see it that well in the picture. I definitely believe what they say about the formula containing a whole bunch of moisturisers – I had to wipe a slight emollient layer from the bullets before swatching. When I swatched, I was very impressed to find that the lipstick does live up to it's claim of providing rich colour in just one swipe – these were delicate swipes, too!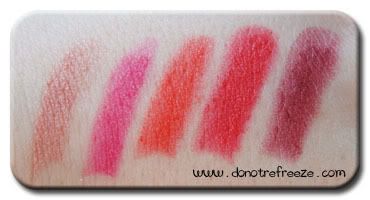 I love Blush, Fuchsia and True Red – not sure if Plum is a bit dark for my liking and Coral is has too much of an orange undertone for my cool skin. They do feel lovely and soft on the lips, although I haven't done any lip swatches 'cause I'm a bit flaky and gross at the moment (but let me know if you do want lip swatches and I'll get to it ASAP). I did worry that because they're so full of moisture, that they might be prone to sliding around and quick fading. Thankfully I was wrong! I didn't experience any sliding or bleeding even without lipliner, and the colour lasts a good few hours before fading enough to warrant a touch-up.
Overall, my first impression of these lipsticks is great and Revlon are really going up in my estimation – definitely an underrated brand!
Revlon Colorburst lipsticks are due to hit Boots and Superdrug TODAY (2nd June) and retail for £7.99, although there'll probably be an introductory offer for a short while like there normally is for new prodcuts. :)
The products featured in this post were provided by Revlon for review consideration, but you should know by now that this does not affect my opinion.