Okay, so I know the flowers probably aren't meant to be orchids but whatever. Shhh.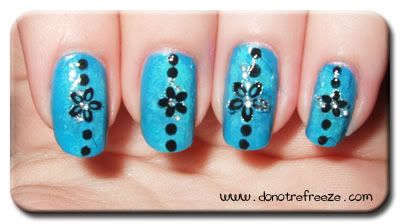 Base colour was NailGirls Blue #2, with a bit of Sleek Turquoise lightly sponged on top to give the background some texture. The stickers are from Viva La Nails, and the dots were done with Color Club Dark Romance.
I really really love how the stickers looked but I had real trouble keeping them stuck down to the curves of my nail plate – you can see it really obviously on the ring finger. This mani didn't last long, I lost a couple in the shower even with a thick topcoat 'cause the edges of the stickers wouldn't stay stuck down! It just seems that the adhesive on them wasn't very sticky, so before I write them off completely (they're just too pretty to do that), I'm gonna try sticking them to a wet topcoat rather than just on dry polish.
Hope you all had lovely weekends, and sorry for the short post and a few days of silence, was away for the weekend. Will find something more substantial to post during the week! Mwah!